Barcelona boss Tito Vilanova set for 'pioneering cancer treatment'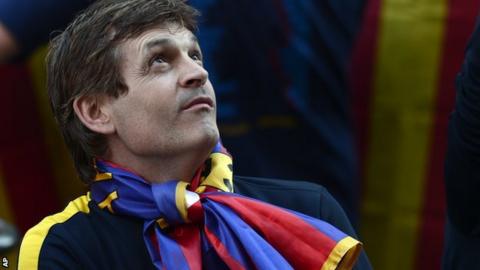 Barcelona manager Tito Vilanova will travel to New York on Monday to receive "pioneering treatment" as he continues his battle against throat cancer.
The 44-year-old, whose side wrapped up the Spanish title last week, spent time in the US city in March to undergo chemotherapy and radiotherapy.
This latest treatment was scheduled for the summer but has been brought forward after the Catalans' La Liga triumph.
He had a tumour removed in November 2011 but suffered a relapse last year.
"It was originally planned for this summer but as Barca has now clinched the league title it has been advanced to next week," the club said, adding that the "pioneering treatment" was "proving particularly effective", though they gave no further details.
Vilanova had a second operation in December 2012 and spent 10 weeks in a New York hospital receiving treatment.
Although the Spanish champions beat Real Madrid to the title with several weeks of the season to spare, they endured a humiliating 7-0 aggregate Champions League semi-final defeat by Bayern Munich.
Vilanova has asked to be judged on his achievements next season because of the disruptions caused by his treatment and injuries to key players such as Lionel Messi and captain Carles Puyol.
Barcelona face Valladolid on Sunday before ending their campaign with a Catalan derby at Espanyol and a home game against Malaga.