Doncaster Rovers: Manager shortlist cut to two names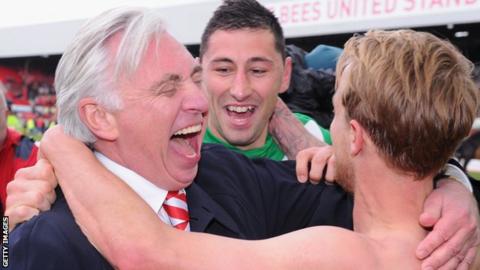 Doncaster Rovers should have a new manager in place by early next week, the club's chairman has confirmed.
John Ryan said the shortlist had been cut to two candidates, but refused to comment on speculation the pair were Paul Dickov and Michael Appleton.
The League One champions have been managerless since Brian Flynn switched roles to become director of football.
"We're down to two major candidates and we hope to sort it out early next week," Ryan told BBC Radio Sheffield.
"I'm not going to discuss any names as I don't think it's fair, but we have spoken to them.
"I am not confirming they're [former Oldham boss Dickov and ex-Blackpool manager Appleton] the final two."
Ryan said they also wanted to bring a number of new players to the Keepmoat Stadium as they prepare to make the step up to the Championship, with a goalkeeper top of the list.
"We've got a list of players we think we could do with signing and we'll put it to the new manager and see if he agrees.
"If he doesn't agree then he'll have to provide alternatives. We need certain players in certain positions and we've identified them in the main."
He continued: "We want a top class goalkeeper, which is no reflection on Gary [Woods] who's had a great season, but the Championship is a new level and in reality we're looking for a new number one."
Doncaster were relegated from the Championship last year, but Ryan backed the team to make a better fist of it this time around.
"If we can add a bit of real class to what is a strong and powerful team, we can make an impression in the Championship.
"Everyone says if you finish fourth from bottom it will be a great achievement - well, in some ways it might, but I'd rather finish fourth from top," he added.
"I don't want to have a realistic aim, I want to have an unrealistic aim which is getting in the Premier League.
"Anything can happen and you've got to go into the new season with a really positive attitude and say smaller teams than us have done it."