Kenny Shiels upbeat on Kris Boyd staying at Kilmarnock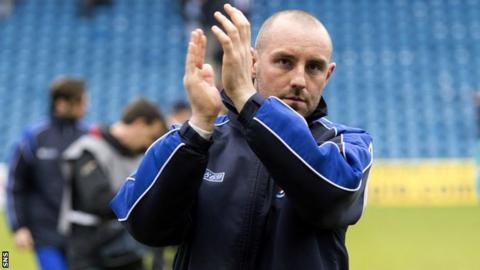 Manager Kenny Shiels hopes the Scottish Premier League's all-time top scorer will be at Rugby Park next season to help develop his youthful squad.
Kris Boyd, 29, joined Killie in February on a short-term deal and scored in their final game of the season,
"I spoke to him this week and he is optimistic about staying," said Shiels.
"His agent will speak with the chairman. It's a probability more than a possibility."
Boyd's three goals since his return to Rugby Park, where he played from 2000-2006 before joining Rangers, takes his SPL goals tally to 167.
Earlier in the week, the Northern Irishman had hoped to register two home wins to round off the SPL campaign, results that would have guaranteed seventh place.
But consecutive 3-1 home defeats by Hibernian and the Buddies mean Killie finish ninth in the table.
Their league record at Rugby Park stands at five wins, four draws and 10 defeats.
"Our home form hasn't been good enough," said Shiels.
"You are trying to establish the reasons and I don't necessarily feel it is the way we play. It is just disappointing.
"Of all the clubs, we have the most empty seats proportionate to the size of the stadium, which doesn't lend itself to a good atmosphere.
"I'm not saying that's the reason, but it may be a contributing factor."
Another factor in Kilmarnock's struggle is the succession of injured players that left he and assistant boss Jimmy Nicholl scrambling a squad together to face Danny Lennon's men.
Shiels continued: "Out today were [Manuel] Pascali, [James] Dayton, [Rory] McKenzie, [Paul] Heffernan, [Mo] Sissoko, young [Ross] Barbour, and [Rory] McKeown is just back for his first game.
"It left us really short-staffed and people have to understand that.
"We had to dig below where we have been digging and bring in some players who are very young.
"That has an impact on how you set your team out."
Shiels, though, hopes that by blooding young players in the top team now, the club will reap the future benefits.
"It's a foundation period we have gone through to build for next season," he told BBC Scotland.
"I am really excited about next season, when we bring in more experienced players to work along with the kids.
"We are ahead of a lot of clubs in terms of a long-term future.
"It's only six years from the first professional club in Scotland reaching 150 years and I want to be on that journey - I probably won't be, because we'll have dips and they'll bring in a new manager.
"But as long as I have left good stability and someone can come in and carry on cultivating the seeds that have been sown, [that will be fine].
"It's a great club."