Kilmarnock return is best option for goalkeeper Craig Samson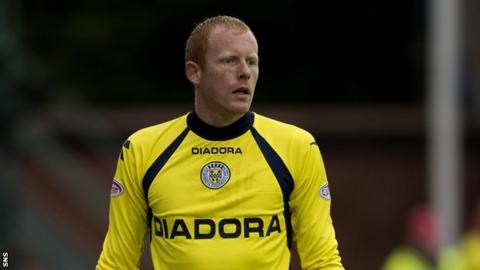 Craig Samson chose Kilmarnock over Scottish Premier League runners-up Motherwell because he preferred a return to his hometown club.
The 29-year-old goalkeeper was disappointed not to be able to agree a new contract with St Mirren but has signed a two-year deal at Rugby Park.
And he is looking forward to next term after a 3-1 win over his new employers.
"This is where I started off my football career and I'm delighted to be back," Samson said on Saturday.
"I went to have discussions with Motherwell and then I spoke with Kilmarnock and I just fancied coming back to where it started for me."
Kilmarnock had already agreed terms with Inverness Caledonian Thistle's 30-year-old goalkeeper, Antonio Regeuro with first choice Cammy Bell heading to Rangers.
But Samson welcomes the challenge from the Spaniard.
"I've not been told by anybody you are going to come here and play," said the former Scotland Under-21 international.
"I know they've signed another good goalkeeper so I think that's what makes clubs good - good competition for places.
"It keeps everybody on their toes and at the top of their game.
"It'll be down to me to try to get into the team and Reguero will be thinking the exact same thing."
Samson joined St Mirren from Ayr United in 2010 and had held discussions with manager Danny Lennon about extending his stay with the Paisley club.
"We spoke about a contract and my valuation of myself and the manager's weren't the same," he revealed.
"I just felt I maybe deserved a wee bit more than what he was willing to give me contract-wise and he didn't think I did.
"So we shook hands and that's the way football works.
"The manager's got a budget and he didn't think he could give me any more of his budget .
"I wasn't asking for a lot of money. I wasn't asking to be anywhere near the top paid at St Mirren, but that's the way football works."
Samson received a standing ovation from Buddies fans at the end of his final match for the side who won the Scottish Communities League Cup this season.
"It's been the best time of my career, at St Mirren," he explained. "The club have been fantastic to me and I've had a brilliant three years.
"Winning the League Cup was just something else, it was different class and something I'll never forget.
"But sometimes people move on and part on good terms and that's how football works."
Irvine-born Samson made one appearance for Kilmarnock before leaving for Dundee United in 2005.
"I was just a young boy when I left," said the goalkeeper who has also turned out for Queen of the South, St Johstone, Ross County, Dundee and Hereford United.
"I wouldn't change the fact that I left.
"I went away and I learned and had to go down a couple of levels and try to get myself back up, but going away's taught me a lot of things about myself and I've certainly become a better goalkeeper through age and experience and St Mirren's given me SPL experience.
"That's two seasons now, I've not missed a minute.
"I don't think anyone else has done that. That's something I'm proud of."
Samson's contract with Kilmarnock includes an option of a third year at Rugby Park.