David Beckham: Tearful midfielder signs off with win in Paris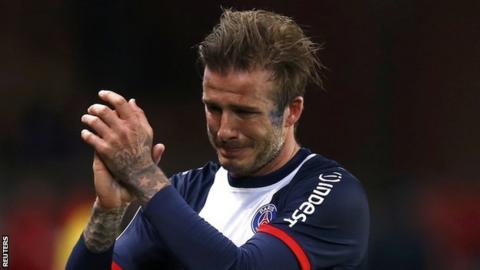 David Beckham left the pitch in tears as he completed the final home match of his 20-year career.
Paris St-Germain's game against Brest was briefly halted as Beckham, captain for the night, was substituted after 81 minutes, his team-mates congregating in the middle of the pitch to applaud him.
PSG president Nasser Al-Khelaifi said afterwards: "It's up to the coach but I think that will be David's last match."
PSG, who are already champions, won 3-1 against relegated Brest.
Reports before the match suggested Beckham will not be involved in his side's trip to Lorient on the season's final day.
After the game, he indicated he expected to be part of the PSG squad next Sunday but did not know whether he would play.
"I want to say thank you to everybody in Paris - to my team-mates, to the staff, to the fans," Beckham said as he addressed PSG supporters after the final whistle. "It's been very special to finish my career here. It could not have been any more special.
"I just feel that it's the right time [to retire]. I feel that I've achieved everything that I could in my career. I wanted to go out as a champion. I've finished my career in a team that has treated me like I've been here for 10 years.
"After 22 years of playing football I'm going to take a few months to enjoy time with my family."
Beckham, who was clearly emotional in the five minutes preceding his substitution, embraced manager Carlo Ancelotti as he made his way off the field to a standing ovation from supporters at the Parc des Princes.
After the game, the former England captain, watched by a crowd including wife Victoria and former French president Nicolas Sarkozy, was repeatedly thrown into the air by his team-mates.
The 38-year-old announced on Thursday that he was to finish his career at the end of the season, although it now appears doubtful that he will feature in his side's final fixture on 26 May.
He told Sky Sports: "There's a plastic pitch next weekend. I ruptured my Achilles a few years ago, so it's not great for it. Like I said, tonight was very special. I'll be part of the team next week. Whether I play or not, who knows?"
He added that being made captain was an honour he would treasure: "The manager called me in and said 'we've spoken to the players, it's the players' idea - we want to make you captain'. It's really special for an Englishman to be captain of PSG - especially on a night that meant so much to the club and the players.
"It was an amazing gesture and one I'll always be thankful for."
Beckham marked his last home appearance with a trademark assist, as his corner was volleyed into the net by Blaise Matuidi.
That was PSG's second goal, sandwiched between two strikes from Sweden international Zlatan Ibrahimovic.
Brest pulled one back through Charlison Benschop but never threatened a fight-back.