Roberto Mancini's Man City sacking criticised by Kevin Keegan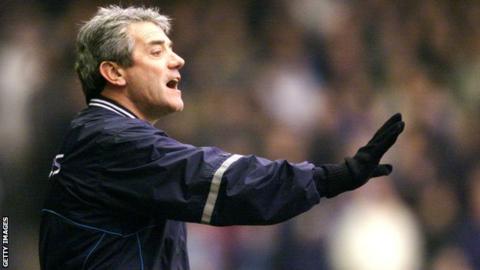 Former Manchester City manager Kevin Keegan has questioned his old club's decision to sack Roberto Mancini.
The 48-year-old Italian, who led City to the Premier League title last season, was fired on Monday after defeat by Wigan in the FA Cup final.
Retiring Manchester United boss Sir Alex Ferguson also criticised the move.
Keegan, 62, said: "They couldn't say he hasn't done a good job. Three trophies in three years for a club that hasn't won anything for so long was terrific."
Ex-England boss Keegan, who was at City between 2001 and 2005, said it was wrong of the club to highlight Mancini's allegedly poor relationship with some players as a justification for sacking him.
Mancini's most notable quarrel came in January when he was involved in a training-ground bust-up with Italy striker Mario Balotelli.
The Italian also clashed with Carlos Tevez in September 2011, saying the Argentine was "finished" at the club after accusing him of refusing to play as a substitute in a Champions League game against Bayern Munich.
"They picked on one area where they felt they could justify it - maybe he didn't get on that well with the players. But it certainly worked when they won the FA Cup and when they won the league," Keegan told BBC Radio 5 live's Sportsweek programme.
"Just thank him for what he's done and get on with it, you don't have to put your dirty washing out in public."
In April, Keegan urged his former club to stand by Mancini even if they ended the season without any silverware.
Malaga's Manuel Pellegrini is the frontrunner to replace Mancini, and Keegan pointed to his suitability for the role.
"It's a job for the foreign-type coach now, because they are coaches, they're not managers. Pellegrini is that type of man.
"I think he'll realise he's going to a club that's got ambition, a club that's already got an awful lot of good players who have underperformed this year.
"He'll be very excited to have the opportunity to manage players like Sergio Aguero, Vincent Kompany, Tevez and David Silva."
Malaga have refused to comment on Pellegrini's future until their season ends on 1 June.