Sir Alex Ferguson: Michael Carrick says Man Utd ready to move on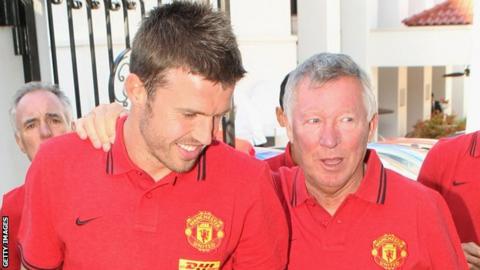 Manchester United midfielder Michael Carrick says the team are "ready to move on" after Sir Alex Ferguson's 1,500th and final game in charge.
Everton manager David Moyes will succeed Ferguson, who officially retires as United boss on 1 July.
"We have to move forward," said Carrick, who was captain for Ferguson's last match, at West Brom.
"We'll have a nice rest in the summer and start again on 3 July when we report back for training."
Ferguson declined to talk to the media after United, who had led 3-0 and 5-2, were forced to settle for a point in a dramatic game at The Hawthorns on Sunday.
With Premier League runners-up Manchester City losing at home to Norwich, the champions still ended the Ferguson era with an 11-point cushion at the top of the table, despite failing to win in their last three away matches.
Ferguson, 71, still managed a smile at the end of the West Brom game despite watching his side concede three late goals.
"It's a bit funny in the dressing room because of the situation," added Carrick.
"We've thanked the manager for everything he's done and he's thanked us.
"The manager wanted to win but with the job we've done this season, I'm sure he can retire very satisfied."
Speaking about the future, England international Carrick said: "We're ready to move on and there are new challenges for all of us.
"We're looking forward to it. We've had enough time to digest the title celebrations, the news about the manager and [Paul Scholes] retiring. We have to move forward."
West Brom manager Steve Clarke revealed after the match that fellow Scot Ferguson was in "good spirits" after the game as he prepared for retirement.
"I've just had a quick glass of wine with Sir Alex," he said. "He's fine.
"It's a game he'll certainly remember."