St Johnstone eye budget for Europa League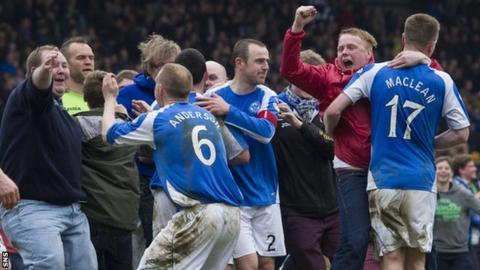 St Johnstone chairman Steve Brown hopes vital meetings on Monday will settle his club's budget for next season - and manager Steve Lomas' future in Perth.
Those uncertainties have tempered both men's joy at Europa League qualification after beating Motherwell.
Brown hopes the Scottish Premier League will agree a restructuring for next season next week that will allow more financial certainty.
"He's got lots more ammunition now," said Brown of Lomas.
"I'm probably on the back foot and hopefully we'll get something sorted out.
"He was favourite for the Millwall job and he's probably going to be associated with two or three jobs down south throughout the summer.
"It really depends on Steve. My budget will obviously be based on financial things, but Steven's qualified for Europe and hopefully we can meet somewhere in the middle.
"I can relate to his frustrations. He's not done anything wrong. He's taken a budget that was reduced from last year and got us third place."
Brown said that qualifying for Europe by leapfrogging Inverness Caledonian Thistle on the final day of the season did not mean a boost in income.
"It certainly puts a completely different angle on it," said the chairman, who will also meet Lomas on Monday afternoon.
"We know we've got an issue with attendances. We know we're in the middle of a recession that doesn't look like it's going away any time soon.
"But you've got to play two games in July. If you take it in isolation, it is only the fourth time in history we've qualified for Europe and, to do that two years on the trot, is incredible.
"Last year, as much as we had a terrific relationship with Eskisehirspor and we keep in close contact, it cost over £110,000 for the plane and we only got £90,000 for the round."
Brown admitted that he was emotional at the final whistle as Saints won 2-0.
"The season is long and you go through a lot of grief in that time and it is just absolutely unbelievable," he told BBC Scotland.
"Obviously we have a difference of opinion from time to time over the budgets, but if you look at the clubs below us, sitting in the bottom six, there'll be four out of the six with budgets than us."
Lomas thought his side did not get the credit they deserved before winning their three-horse race to finish third.
"All credit to Inverness and Ross County," he said. "Both teams deserve an enormous amount of credit, but more so my players. They have been absolutely magnificent.
"With all the changes we've had this year, they've been absolutely brilliant.
"Their heart is never in question, but their quality is sometimes overlooked."
Hibernian-bound Liam Craig scored the opening goal and Lomas praised the attitude of players who could be leaving the club.
"Not just Liam, but you've got Murray Davidson and a host of other boys who are out of contract and they keep going and you see the effort and commitment," he said.
"Hopefully, we can get a little bit more money and we can sign some of the boys that have been fantastic this season."
Craig thought that team spirit had been important to St Johnstone's success.
"It has been a magnificent season and to cap it all with a goal and finish third is unbelievable," he said.
"It was all about the club. That is how we are where we are - it's always been a team effort and it's not been individuals.
"It was a great day for the club and for St Johnstone to finish third in the SPL is incredible and, to get into Europe back to back, you couldn't ask for much more as a St Johnstone fan."