Arsene Wenger says Champions League spot vital for Arsenal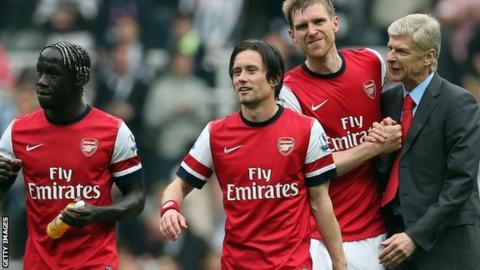 Arsenal boss Arsene Wenger said reaching next season's Champions League was vital for his club's ability to attract top players.
Laurent Koscielny's solitary goal earned the Gunners a 1-0 victory over Newcastle to finish fourth in the Premier League.
Wenger said: "Qualification means it is easier to bring in players when we have a chance to be in the Champions League.
"In the last three months, we have been remarkably consistent."
Wenger will have increased money available this summer and he said the allure of Europe's top competition would give his side an added advantage to build on what he already calls an "exceptional" squad.
"We need stability and strength in our group, because there are many clubs out there with a lot of money," said the Frenchman. "The competition is very hard and there is not as much talent as there is money today in football."
Wenger praised his side's attitude after winning eight of their last 10 Premier League games. They had been seven points behind Spurs after losing to their arch-rivals on 3 March.
And the Gunners boss pin-pointed his side's Champions League victory over eventual finalists Bayern Munich 10 days later as a turning point in a sometimes "stormy" season.
The team were knocked out of the League Cup by League Two side Bradford, lost in the FA Cup to Blackburn and were outplayed in the home leg of the Champions League fixture against Bayern before they won in Germany.
Since the Bayern victory, though, Arsenal have won all five of their remaining away Premier League games, matching a run which was last set in 2004.
Wenger added: "I'm happy because the exceptional attitude and determination from the players has been rewarded.
"They continued to believe when we were seven points behind Tottenham in March. We had no room for error and you could never see any sign of the players giving in.
"We had some big lows with Bradford, with Blackburn, with Bayern at home, and never could you see the players dismantle or that the group was not united - and that's not easy in the modern game.
"Since the first of February we have taken more points than anybody else in the Premier League and I don't believe that's just a coincidence but the fact that the team has grown through the season.
"We lacked belief for a long period because we couldn't win a big game, but the Bayern game changed our season away from home."