Dunfermline: Jim Jefferies blasts SFL points deduction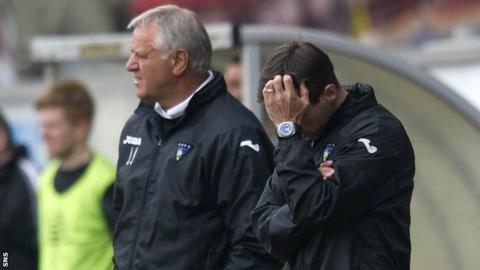 Dunfermline manager Jim Jefferies has described as "ridiculous" the decision to deduct the points from the club that led to relegation to Division Two.
It meant the Pars faced the play-offs and they lost the final .
"It's not Alloa that's put us down," said Jefferies, who argues that docking points for going into administration hurts the players and not club owners.
"We had 15 points taken away from us. It is just a shocking decision."
The Scottish Football League also placed a and Jefferies suggests that this and other such measures would be a better punishment.
"It is not well thought out, unless they want you relegated and want young players to lose their jobs or taking less money," said Jefferies, who lost eight first-team players immediately after the club entered administration.
"It is bad enough them not getting paid very much at the moment.
"When you go down a division, it makes it worse and these are the players who are going to suffer for that.
"Some of them might have to go because of the cuts we make. Hopefully not, but there will certainly be less to play with."
Jefferies had made his feelings known to SFL chief executive David Longmuir in the minutes before the second leg against Alloa and also expressed sympathy for other clubs, like one of his former clubs, who might suffer a similar fate.
"I'm a Hearts man and, if Hearts have this, they should take the strongest action they can possibly do, but leave the players alone and don't take the points away from them," he told BBC Scotland.
Jefferies was open to remaining Dunfermline manager depending on the clubs financial survival and the plans of whoever takes over at East End Park.
"This has been one of the most enjoyable jobs," he said. "The club took a certain pathway of going down, getting me to get in younger players from lower divisions and integrate the youth system a wee bit better.
"It has been a huge success and some of these boys have been doubling up in the under-20s and got to the final of the youth cup.
"It is about who takes over now. I know there are some people in the background working hard to solve that and, if they do that and I can sit down with them and I like what I hear, I would like to stay and bring them back up."
It will be the first time since 1986 that Dunfermline will be down in Scotland's third tier, but former Pars player, manager and director of football Jim Leishman had said before kick-off that avoiding liquidation was the priority.
"Right now, we're not fussy what division we will be in," he said. "It is about saving the club.
"It is about playing at East End Park next year and having a squad of players, at no matter what age, who are representing Dunfermline Athletic Football Club."
Leishman is involved in the Pars United group that and now hopes to buy the club.
"On Wednesday at the Alhambra Theatre, we're going on stage to tell the fans what is the way forward," he said ahead of what he suggested were important announcements.
"We have a great tradition, a great history and, if we have to go all the way to the bottom to build again, we'll have a great future."