Motherwell: Stuart McCall dismisses Sheffield United link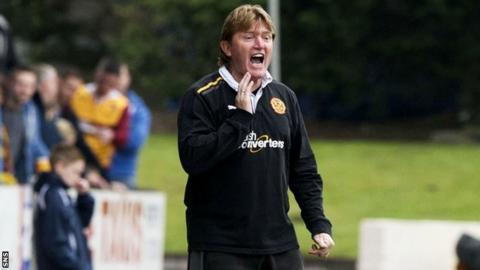 Motherwell manager Stuart McCall has distanced himself from speculation linking him with a move to Sheffield United.
The Fir Park boss dismissed suggestions he is a wanted man after guiding the Steelmen into Europe.
He said: "Who's saying that? Is there any quotes? It's a story that's not worth speaking about because it's all speculation.
"I've never as a player, coach or manager sought to go elsewhere."
He continued: "I've always been happy here and if anything at all ever comes up and is put to me that is the time we'll talk about it, but at this moment in time it's been pure speculation.
"This 'man in demand', and the speculation, is news to me. Obviously I read the papers and I see what's written, but I wouldn't go as far as saying 'man in demand'.
"I think when you've had a decent season, or a couple of decent seasons which I've been fortunate to have, then speculation will grow.
"As far as I'm concerned, my full focus is on here all the time and now I move on from thinking in my mind of Motherwell to thinking of Scotland because the next game is 7 June against Croatia, and that's going to take some good organisation from Gordon [Strachan], Mark [McGhee] and hopefully myself."
Motherwell comfortably secured second place in the Scottish Premier League despite the final day loss to St Johnstone.
McCall is proud to have led the Lanarkshire men to Europe again, but reflected on the lack of silverware.
"We certainly could have achieved more in the cups this season, that's been a big disappointment this year," he said.
"The European thing was fantastic, but to go out on such a whimper to Rangers - probably our poorest performance of the season - and then to be up at Aberdeen in the Scottish Cup with 30 seconds to go, with [Niall] McGinn to pop up and they beat us in the replay, they're the two low lights that stand out.
"But I'd be here the majority of the afternoon if I was to tell you all the highlights because there's been some fantastic games and the players have been a credit."