Swansea boss Michael Laudrup reflects on 'incredible' season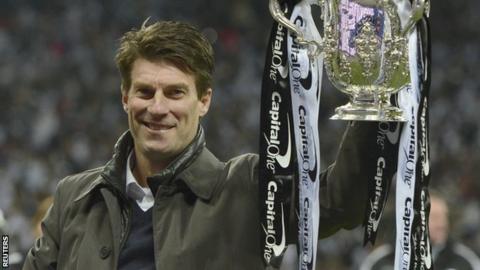 Swansea boss Michael Laudrup believes it has been a fantastic achievement to finish ninth in the Premier League and win the Capital One Cup.
The Welsh club's season ended on a slight sour note with a on Sunday.
But despite that reverse, Laudrup says they should be happy with the campaign.
"I'm not in the mood in the day when I lose a game but I'm sure in a week's time when I look back at this campaign it has been incredible," Laudrup said.
"It has been way above - talking about the league - what anyone could expect, finishing in ninth position."
Swansea finished 11th last season in their debut Premier League campaign under former manager Brendan Rodgers.
But former Barcelona and Real Madrid forward Laudrup has managed to improve on that with a ninth-place finish, claiming more than £9m in prize money in the process for that position.
The Dane will also lead Swansea into the Europa League next season, after securing European football through their 5-0 Capital One Cup final win over Bradford City - having knocked out Chelsea over two legs in the semi-finals.
"We won the first major trophy in the history of this club!" Laudrup said. "I've only been here 10 or 11 months but everybody says it is the biggest season ever in the history of the club, so I have to believe that.
"We can still improve. I don't know if we can improve in the table but we can improve on the pitch some things.
"And one of those things you saw [against Fulham], when you create so much you have to score otherwise sooner or later you'll get punished.
"We play so much, we create so much but we have to be more effective [in front of goal].
"We scored 47 goals [in the league] but we can easily add at least 10 to that next season."
Laudrup has already spoken of the need as the team has been overly reliant on the 22 goals scored by
Real Betis midfielder Jose Canas and Celta Vigo striker Iago Aspas have been linked with moves to the Liberty Stadium and Laudrup admitted that he has already been working hard on securing new signings for "more than a month".