Resilient Arsenal remain a step ahead of rivals Tottenham

By Phil McNulty
Chief football writer
Last updated on .From the section Football420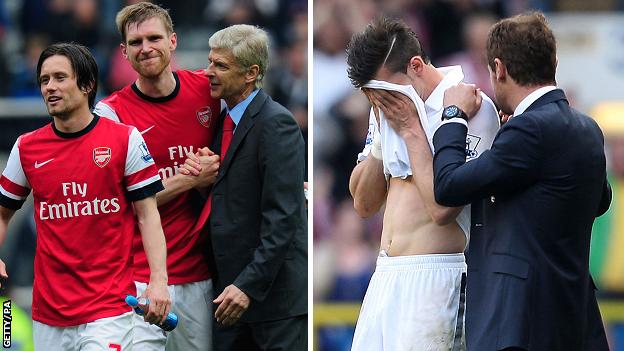 On a small tide of misinformation, White Hart Lane was suddenly awash with dreams of the Champions League. Tottenham and their fans should have known better.
As Spurs strived to score the goal that would fulfil their part of the equation required to secure fourth place, there was a sudden eruption of sound as Newcastle United equalised against Arsenal.
Only they had not equalised. Nothing of the sort. It was one of those false alarms that often afflict football stadia on days such as Sunday, when attention is in two places at once, when two results can shape a season.
Arsenal still led and would continue to lead. Arsene Wenger's side secured that crucial fourth place in the Premier League by beating Newcastle, rendering Gareth Bale's latest brilliant strike, against Sunderland, futile other than to give Spurs their highest-ever Premier League points tally.
The Gunners, as they have done so often, came out on top of their fiercest rivals, and the summer ramifications for both clubs were being sifted through within seconds of the final whistle sounding at both grounds.
The cruelty of the "ghost" equaliser on Tyneside, and those final four minutes when White Hart Lane tried to summon up a Newcastle goal, epitomised the treatment meted out to Spurs by the Champions League in the last 12 months.
This time last season, Arsenal pipped Spurs for third place on the final day. Tottenham at least had fourth spot but even that consolation was stripped away when Chelsea won the Champions League to earn a place as defending champions at the expense of their north London rivals.
Spurs fans could only glance wistfully at television scenes that showed Arsenal celebrations at St James' Park. They had their noses pressed up against the window once more, although they swallowed that disappointment to demonstrate genuine warmth to manager Andre Villas-Boas and his players on the lap of appreciation.
Arsenal had reached the Champions League for a 16th successive time under Arsene Wenger. It is an achievement that will keep serious discontent at bay, offering some optimism for the future despite another season without a trophy.
Even if Arsenal had failed to reach what must be regarded as their minimum goal, Wenger would have remained in his post.
He retains the complete faith of his board of directors, who believe they are now on the cusp of reaping the benefits of years of careful financial management by adding to Wenger's financial power in the transfer market.
Arsenal fans have railed against promises of a brighter future, but finishing fourth not only means they end the season draped in a good feeling, they are now in a stronger position to attract better talent.
Despite the cynicism of some Arsenal fans, and plenty outside the Emirates, there is a genuine conviction inside the club that the platform has now been established for imminent lift-off.
With Manchester United, Chelsea and Manchester City all under new management at the start of next season, Arsenal have the opportunity to show they mean business with some serious statements of transfer intent.
There was a danger they could be left further behind had Laurent Koscielny's goal not given them victory at Newcastle. Now, while the Capital One Cup quarter-final loss to League Two Bradford City and the FA Cup exit to Championship Blackburn Rovers will not be forgotten, they have something to work with.
And for those, like myself, who have sometimes been critical of Wenger and his team this season, it is only fair to admit they deserve praise for digging in during troubled times and hitting the target their manager now regards as close to lifting a trophy.
Since losing to Spurs at White Hart Lane on 3 March and falling seven points behind their rivals, Arsenal have shown great resolve to put together a 10-match unbeaten Premier League run. Some of the points may not have been collected with the swagger and style Wenger adores but there were no complaints on Sunday night. Never mind the quality - count the Champions League money.
In contrast, Spurs have carelessly cast points aside in defeat at Liverpool and, decisively, in losing at home to Fulham after a gruelling Europa League extra-time period against Inter Milan in the San Siro.
Villas-Boas was gracious despite his deflation, his gazed fixed firmly on the costly defeat at Everton in December when Spurs lost 2-1 despite leading at the start of stoppage time.
He may have finished lower than last season - and his predecessor Harry Redknapp ended up getting the sack last summer - but there seemed satisfaction in the Spurs boardroom and from supporters as to how the Portuguese has acquitted himself in his first campaign.
Villas-Boas was moving through a period of public rehabilitation after his sacking at Chelsea. His handling of players and the media this season does him credit and, like all good coaches and managers, he looked to have learned from this most painful period of his career.
He has overseen a solid season at Spurs, showing growing maturity. It should be remembered that he is still young in coaching terms and he will feel heartened by the reception he received after the final whistle.
There was, though, a fear that came with this failure to reach the Champions League. It was a fear heightened by the manner in which this game was won, like so many others this season, by a moment of world-class finishing by Bale.
What would Spurs do, and where would they be, without him?
He has accrued spectacular goals and personal accolades with regularity - and the fear is that his lack of exposure to Europe's elite competition makes him more vulnerable to predators.
Villas-Boas was strident. He has been assured "from the top" that Bale will not be sold and history will tell him chairman Daniel Levy will not sell until a time of his choosing.
There is no doubt, however, that a place in the Champions League would have taken those concerns about Bale down a notch. Potential suitors may feel more emboldened to try their luck as he ponders Thursday nights in the Europa League next season.
The mood swings among north London's two giants were violent at the end of the Premier League campaign, the contrasting emotions reflecting what was at stake. Arsenal, as they have a habit of doing in this local rivalry, ended the season on top, contemplating the riches the Champions League will give them.