Newcastle boss Alan Pardew 'pretty confident' of continuing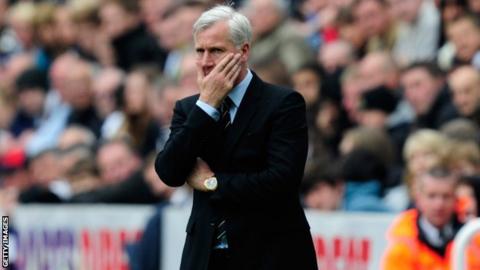 Newcastle boss Alan Pardew says he is "pretty confident" he will be in charge next season despite a 16th-place Premier League finish.
Pardew guided the Magpies to fifth last term, earning a Europa League spot and the League Managers' Association award.
But this season they only secured their top-flight status with one game to go.
"I'm pretty confident I'll be the manager here. I love being the manager," Pardew said after Sunday's 1-0 home defeat by Arsenal.
"I will be speaking to Mike [Ashley, owner] and Derek [Llambias, managing director] this week to make sure we get a response and a reaction."
The defeat by the Gunners concluded a bruising end to the season at St James' Park, where Newcastle were also beaten 6-0 by Liverpool and 3-0 by local rivals Sunderland. Pardew has already admitted that the club has "underachieved".
Last week, he conceded that he was unsure of owner Ashley's plans and would speak to him once the season was over with the club's safety assured.
"He can tell me where he's coming from and we can clear the air about how we want to take it forward," he said at the time. "He could turn around and say, 'sorry Pards, see you later and thanks very much'. He could do that if we don't make it, he could do that if we make it."
The 51-year-old joined the Magpies in December 2010 on a five-and-a-half-year deal and following last season's success was awarded an eight-year contract in September.
Pardew said his playing resources had been stretched too thinly this term with numerous injuries to key players.
"I think it's been the toughest season in terms of workload because of the Europa League campaign, and the stress it had on the squad was also causing stress on myself and the staff," he said.
"We have just had too many key players missing. I think we've had seven different central-half partnerships this year, and when we finished fifth that hardly changed."
Pardew signed five French players in January but Llambias has stated there will still be money available this summer and the club has been linked with former Newcastle striker Andy Carroll, who has spent the season on loan at West Ham from Liverpool.
Pardew also said he hoped the club could hold onto Argentina centre-back Fabricio Coloccini, who has been linked with a move back to his home country, where his family still live.
He added: "Next year we haven't got that [European] pressure and we can go week-to-week in the Premier League. But we are not foolish enough to think we don't have a couple of issues to sort out in the team - not major issues, but one or two players to add to offer us a different look."
On Coloccini, the Magpies boss said: "It's obvious we want him to stay and I thought his performance against Arsenal was outstanding.
"He's very important to the team and I hope he stays, but from day one I've been very honest about this decision. It's not really a business decision, it's not a contractual one, it's a personal one and that probably lies with Colo.
"Fingers crossed he can stay."