Real Garcilaso: Peru's four-year fairytale
Last updated on .From the section Football54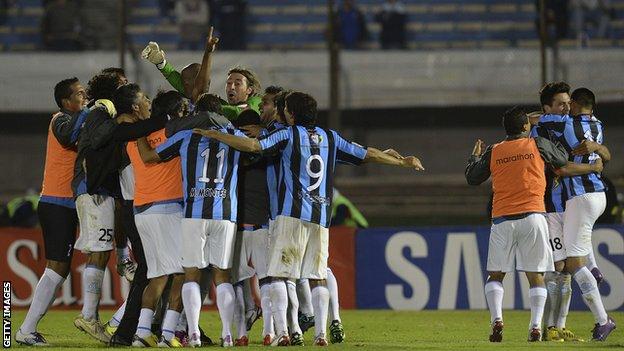 The closing stages of Europe's Champions League is for the big hitters but in South America, things are less predictable.
In this year's version of the Copa Libertadores, six former champions have just bitten the dust. Only two, Boca Juniors of Argentina and Olimpia of Paraguay, remain as the quarter-finals get under way this week.
There are some big clubs chasing their first title - including Fluminense and Atletico Mineiro of Brazil; and Newell's Old Boys of Argentina. But there are also some surprises - including one so extraordinary that it could have come out of the pages of a fairytale.
Real Garcilaso are the first team from Peru to reach the quarter-finals since 1997. The more closely it is held under the microscope, the more remarkable their story becomes - because Garcilaso are just four years old.
Since 2009, they have been founded, joined the ranks of professional Peruvian football, made it into the first division and then, as a result of finishing second in last year's championship, qualified for the Libertadores.
The overwhelming thought was that they would merely be making up the numbers - and not just because they were tournament debutants. They also suffered the customary fate of small clubs who over-achieve; success had put their best players in the shop window and bigger rivals came along to buy.
The spearhead of last year's team was splendidly named striker Andy Pando, fast, strong and direct, who ended up moving on to Spain.
Another seven first-team players were snapped up by more traditional Peruvian sides. Coach Fredy Garcia had to start from scratch. He had little more than a month to build a new side good enough to do battle with the rest of the continent.
He could count on one formidable ally - the altitude of the city of Cuzco, Garcilaso's base in the sky. Some 3,400m up the Andes, it is an awkward venue for unacclimatised opponents, who find themselves gasping for breath in the rarefied air.
But that is hardly an explanation for Garcilaso's presence in the last eight. In the group phase their record at home was distinctly average - one win, one draw and one defeat.
What carried them into the second round was their first two away performances. They started with a 1-0 win away to Cerro Porteno of Paraguay, semi-finalists two years ago and among the pre-tournament favourites this time. Garcilaso repeated the scoreline on their visit to Tolima, a dangerous side from Colombia. Both times they frustrated, held on and broke out late to snatch the points.
That same defensive resilience was on show in their second-round match with Nacional of Uruguay, one of the giants of the Libertadores, with two titles and 39 participations to their name.
Garcilaso won 1-0 at home, then hung on grimly in the second leg in Montevideo to go down by the same scoreline and force penalties. Nacional's veteran Alvaro Recoba and Diego Arismendi, once of Stoke, fired over the bar, while Garcilaso kept their nerve and the fairytale continues.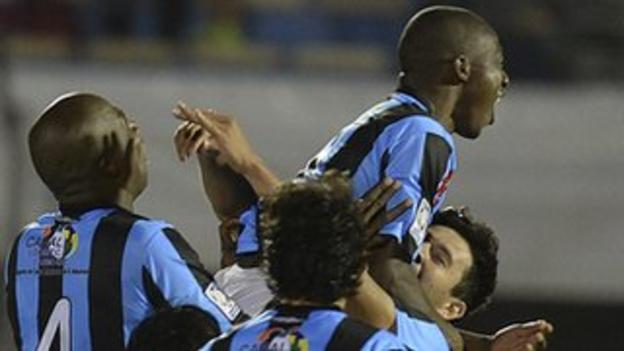 It goes on, too, in the Peruvian championship. It is difficult for any team to reconcile progress in the Libertadores with strong domestic form. Real Garcilaso, though, don't seem to have a problem fighting on two fronts. They are second in the table, two points behind the free-scoring reigning champions Sporting Cristal, with two games in hand.
They have suffered just one defeat, and, once more, it is their defensive solidity that stands out. They have conceded just five goals - the next best is 12.
This is a level of resilience more associated with Paraguayan football than Peruvian - which is not a coincidence. Fredy Garcia already counted on one Paraguayan, playmaker Fabio Ramos, who last year was the main supply line for Andy Pando.
This year three more have been brought in - centre-back Rolando Bogado, whose aerial presence has been felt in both penalty areas, combative and versatile midfielder Oscar Gamarra, and striker Victor Ferreira, who works so hard all across the front line. Between them, these four Paraguayans have scored six of the nine goals Garcilaso have managed in the Libertadores.
It is not a huge total - though Boca Juniors, for all their tradition, have also only scored nine, and Fluminense's expensively assembled side only have eight to their name. But it does tend to reveal that Garcilaso's strengths are the traditional weapons of the underdog - sound organisation, team spirit and the power of a dawning realisation that a historic moment has arrived.
It is unlikely that this will be enough to take them through to the last four. Their quarter-final opponents are Santa Fe of Colombia, one of the most impressive teams in the tournament with a promising young coach of their own in Wilson Gutierrez.
The altitude of Bogota, their city, means that the trip to Cuzco this Wednesday holds few fears, especially as Santa Fe had the better of things when these sides met in the group phase, drawing away and winning at home.
Then again, a Real Garcilaso win has seemed as unlikely before all the games they have played in this year's Libertadores - and they are still standing while so many more famous names have fallen by the wayside.
Comments on the piece in the space provided. Questions on South American football to vickerycolumn@hotmail.com and I'll pick out a couple for next week.
Q. How many players from the English Premier League do you think will be in Brazil's World Cup squad next year?
Jason Ricketts
In Brazil's Confederations Cup squad, named last week, QPR's Julio Cesar plus Chelsea duo David Luiz and Oscar got the nod, so they are looking good.
Chelsea's Ramires missed out - I'm not sure Luiz Felipe Scolari thinks he fits into the 4-2-3-1 system. A fit Sandro from Tottenham has a great chance but Liverpool's Lucas Leiva has suffered from the change of coach. Manchester United's Rafael might get a look in at right-back, although he may still be carrying the can for the Olympic final. I wonder about Philippe Coutinho, who was off the radar but has shown strong form, and an interesting rhythm, since joining Liverpool.
Q. Why do a lot of South American players like to "return home" to end their career?
Richard Lewis
Sometimes the players simply run out of market in Europe, either because of age or as a result of not living up to expectations. And then there are those who have a burning ambition to go back and play for the club that they grew up supporting, or where they started their career. The outstanding recent example is Juan Sebastian Veron with Estudiantes. After retiring once, he's now preparing to make a comeback next season.