Matt Oakley and Jamie Cureton set to leave Exeter City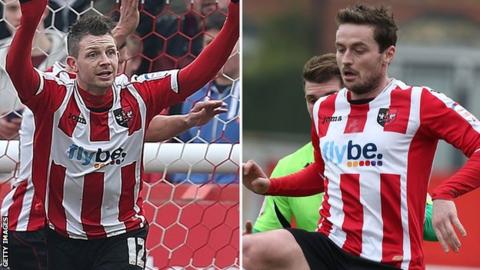 Exeter City manager Paul Tisdale says the club will not re-sign top-scorer Jamie Cureton or midfielder Matt Oakley unless the club's finances improve.
Cureton, 37, netted 21 goals last season, making him League Two's second-highest scorer.
Oakley, 35, played 37 games for City before
"Should things change financially they're players I'll go back and talk to," Tisdale told BBC South West Sport.
Oakley and Cureton following in the previous season, with
"There are no negotiations because I have no opportunity at present to be able to sign them," Tisdale said.
"If things change I'll be on the phone to them, but at the moment my priorities have been elsewhere with other players.
"But the summer's a long time and week-to-week things change so I wouldn't rule out us being able to call them at some point between now and August if they haven't signed somewhere else or done something different with their lives.
"But at the moment I can't negotiate if i don't have something to negotiate with."
But with Tisdale he says his priorities are elsewhere.
"I need to keep a balance between keeping established players and the younger players," he added.
"Unfortunately this year is going to be particularly difficult and I've had to make some tough decisions."