Coventry City: Ricoh Arena confused by reports of new stadium plan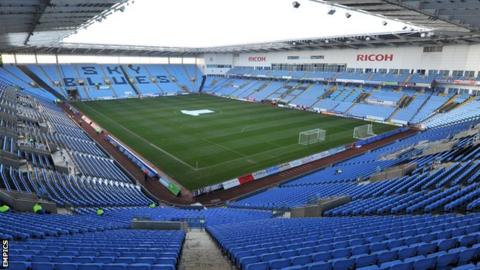 Arena Coventry Ltd (ACL), the firm who run the Ricoh Arena, say they are baffled by reports that Coventry City now intend to resolve their year-long rent row by building a new stadium.
Sky Blues chief executive Tim Fisher announced on Saturday that specialists have been hired to advise on new sites.
But solicitor James Powell, from the firm acting for ACL, says he cannot see how the club can afford a new ground.
"I was surprised and taken aback," he told BBC Coventry & Warwickshire.
"My personal impression was that this was an announcement made on the hoof.
"There's not been any suggestion of another stadium in and around Coventry in anything Mr Fisher or the club have been saying over the last few months.
"The Football League are looking for a whole host of things. A ground in the vicinity of Coventry is one of those things, but a club with financial stability is far more important.
"Mr Fisher is a director, or the director, of a company that, according to the administrator's report, is £70m in debt and was described as a 'catastrophic insolvency' by the administrator's own barrister.
"You'd be asking the question 'Mr Fisher, where are you getting the money from, given that you've managed to lose £70m over the last few years?'"
The Sky Blues' owners Sisu have looked at the option of a future away from the Ricoh Arena ever since the rent row escalated before Christmas, when the club were threatened with being locked out of their own ground.
In March, the club agreed a short-term deal with ACL to complete the League One season at the Ricoh Arena.
Coventry City FC Ltd was then put into administration in late March with debts of £60m, resulting in the deduction of 10 points, which effectively ended hopes of promotion to the Championship.
However, the club are currently the subject of a takeover bid by a consortium, backed by American tycoon Preston Haskell IV. who are understood to be hopeful of pushing through a deal by early June.