David Moyes move a boost for British managers - Sam Allardyce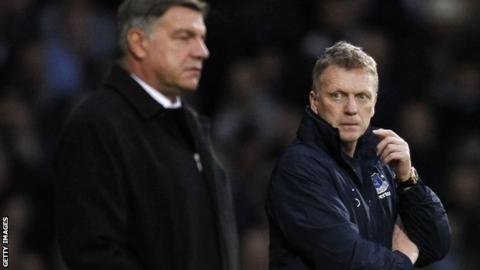 Sam Allardyce says Manchester United's decision to appoint David Moyes as Sir Alex Ferguson's successor is "a huge bonus" for British managers.
"For many years, the top jobs here have all been taken up by foreign coaches," said the West Ham boss.
"It's a huge bonus for David, a huge bonus for British managers."
Moyes, who has been Everton manager for 11 years, will replace fellow Scot Ferguson on 1 July. Ferguson was United boss for 26 years and won 38 trophies.
"For David to get that position is a great achievement for him, a great achievement for British managers to look up to," added Englishman Allardyce.
"They will think: 'If I do my job correctly I may have a chance of getting there at some stage or other in my career.'"
Allardyce also wants club owners to give more job stability to managers, something he thinks would improve the overall standard of British football.
Roberto Mancini's sacking by Manchester City last week took the number of managerial casualties this season to 54 across all four English leagues.
Speaking to BBC Sport at the annual League Managers Association awards dinner in London, the 58-year-old Allardyce said: "Unfortunately, the volatile nature of instant results revolves around every division now and we have to live with that pressure.
"But it would be nice if a little more stability came from the owners and that young managers were given much more of a chance to start learning and improving. The game would evolve a lot, lot better."
England boss Roy Hodgson agreed that the job of being a football manager in Britain was getting tougher.
"You have to be very lucky to survive the ups and downs and that's getting harder and harder," said Hodgson, who has coached in eight different countries.
Allardyce also discussed the imminent return of Jose Mourinho to British football. The Portuguese is tipped to become Chelsea boss for a second time following confirmation that his three-year reign at Real Madrid will finish at the end of the Spanish season.
"He's very entertaining, isn't he?" said Allardyce. "There's not a dull moment with Jose, but he's also a very talented manager."
Asked if Chelsea would be tough to beat next season under Mourinho, Allardyce insisted the Blues are already a "formidable force".
"Carlo Ancelotti won the double, Roberto Di Matteo did what no-one else could do and won the Champions League and Rafa Benitez won the Europa League," said the former Blackpool, Notts County, Bolton Wanderers, Newcastle United and Blackburn Rovers boss.
"The success of Chelsea has continued since Jose left."