Roy Hodgson urges England fans to avoid offensive songs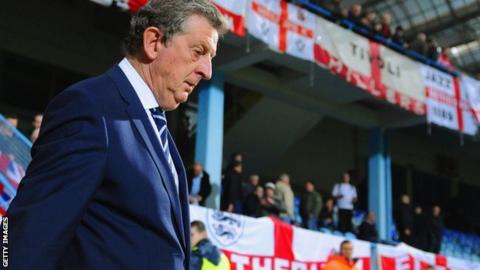 England manager Roy Hodgson has asked fans not to sing antagonistic songs during a friendly against the Republic of Ireland at Wembley on 29 May.
It will be the first meeting since a game at Lansdowne Road was abandoned in 1995 because of crowd trouble.
Hodgson, in an email to England ticket holders and in his programme notes, asks fans to avoid songs with political or religious overtones.
England fans have been known to sing anti-IRA songs.
The email reads: "Ahead of the Ireland fixture, on behalf of the FA, I would like to ask our supporters to please respect our opponents and welcome them in the right way.
"Wembley is considered the world over as the home of football and we ask those attending to not take part in any chanting - particularly of a religious or political perspective - which could cause offence to our visitors or fellow fans."
England supporters were alleged to have aimed racist chanting at brothers Anton and Rio Ferdinand during a World Cup qualifying win over San Marino in March.
The Football Association found no evidence of the abuse, while Fifa did not open disciplinary proceedings "due to the lack of concluding evidence".
However, football's world governing body did remind the FA of article three of Fifa's statutes which reads: "Discrimination of any kind against a country, private person or group of people on account of ethnic origin, gender, language, religion, politics or any other reason is strictly prohibited and punishable by suspension or expulsion."
Fifa also told the FA to take "preventative measures" in the future which is why the FA is trying to doing as much as possible to avoid any insulting songs from their side's fans against the Republic.
Hodgson additionally praises England fans for their exemplary behaviour in recent tournaments.