Dundee fans to decide on American takeover bid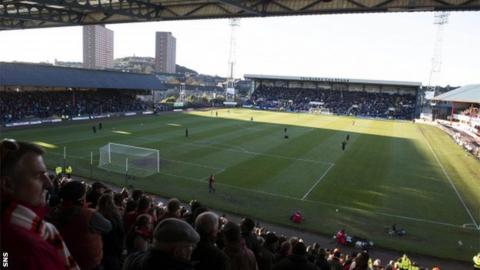 The Dundee board meeting to decide whether to accept investment from a Texan business group has broken up without any agreement being reached.
The six-man board, which includes three Dundee FC Supporters Society members, considered the investment offer of about £700,000 from Keyes Capital.
After a two-hour meeting at Dens Park, two directors announced that the fans will have the final say on the deal.
No timescale had been placed on reaching a decision.
The Dundee FC Supporters Society represents a coalition of Dundee fans, who are the majority shareholders in the club.
Two current Dundee directors, Bill Colvin and Steve Martin, are also involved in the bid.
They have teamed up with Texan investor Tim Keyes and his business partner, who both have US football interests.
Martin described the talks with the Austin-based group as representing a "collaboration" and not a takeover.
He said: "It's an open discussion. The Society are asking us about what the benefits are and it's ongoing just now.
"They now have to go back to their supporters in the Society and take it forward."
The American group had set a deadline of Friday for the bid to be accepted, but that seems unlikely to be met.
Dave Forbes, the interim chairman of the Dundee FC Supporters Society, said he planned to put his views to the members and "let them respond to it as they think fit".
Dundee chief executive officer Scot Gardiner has come under pressure from some sections of the Dundee support, but Martin insisted that there had been no discussions regarding his future at the meeting.
Dens Park is currently owned by former Dundee United director John Bennett and it is understood that talks are ongoing to buy the ground back from him.
If the club's board approves the sale, the Supporters Society would have their shareholding diluted.
However, they would still retain a shareholding of around 30% and have representation on the board.
The investors are understood to be involved in a football academy in Austin, Texas, and wish to develop a similar project with Dundee.
Both men were guests at Dens Park at the friendly derby match in July and negotiations have been going on for more than a year.
Among the "key business characteristics" of areas the American business invests in, the Keyes Capital's website lists "management teams with a vested interest in the future of the company", "predictable earnings and cash flow" and "industries where we can add value through our knowledge and contacts".
Dundee finished bottom of the Scottish Premier League this season and will be .