Brighton apologise to Crystal Palace following vandalism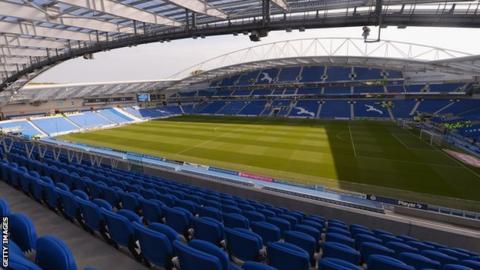 Brighton have formally apologised to Crystal Palace following an "unsavoury incident" in the away dressing room ahead of last week's Championship play-off semi-final at the Amex Stadium.
Excrement was found on the floor of the Palace dressing room ahead of the second leg, which the visitors won 2-0.
The suspension of Brighton boss Gus Poyet is unrelated to the incident.
"We have reviewed internal procedures to guard against this happening again," said chief executive Paul Barber.
In an email to the club's season-ticket holders, Barber added it had been a "challenging" week for the club.
"Defeat at home to our biggest rivals in a play-off semi-final; the suspension from work and pending investigation of three members of our staff [Poyet, assistant manager Mauricio Taricco and first-team coach Charlie Oatway]; and the revelation of an unsavoury incident that took place in our visitors' dressing room last Monday," he said.
"Many supporters have asked me, both in person and in writing, about recent events and, in particular, how and why they have happened.
"At this point, I'm unable to give you answers to all the questions you may have. What I can say to you is that every football club faces a variety of challenges at different points in its history. We are no exception and I can assure you that we will address each of these challenges."
Barber added: "We apologised to Crystal Palace as soon as the vandalism in their dressing room was discovered and again more formally a few days after the match."
Barber declined to comment on the unrelated suspension of Poyet, Taricco and Oatway.
Palace, who beat Brighton 2-0 on aggregate, will play Watford in the Championship play-off final at Wembley on 27 May.