Guernsey FC goalkeeper Chris Tardif considers retirement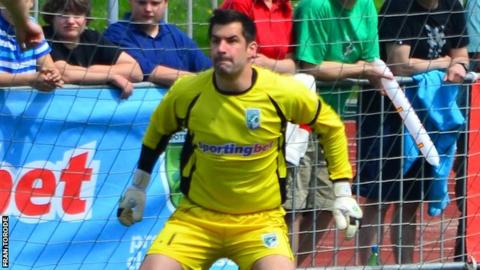 Guernsey FC goalkeeper Chris Tardif is considering quitting football.
Tardif is the second-most experienced Guernsey player in history, with only Matt Le Tissier having played more games in the English leagues.
The 33-year-old, has played for Oxford United, Portsmouth and AFC Bournemouth.
"It's a question I ask myself quite often now, especially at the end of each season," he told BBC Guernsey.
"Next year will be season number 18 or 19, some people forget I've been doing this for quite a while now."
Tardif began his professional career as a trainee at Portsmouth, making his debut in an FA Cup defeat to Tranmere in January 2001, before going on to play five more games for the club in the old First Division.
He was loaned to Bournemouth for the 2002-03 season, playing 15 games, before joining Oxford in 2004.
Tardif left Oxford United in September 2007 and played lower-league football for Farnborough and Maidenhead.
He has been Guernsey FC's number one goalkeeper since the club was formed two years ago, and was between the posts as they and
But he has missed 15 matches this season, most of them when the club was playing off the island in midweek.
"Physically I still think I've still got quite a few years left in me, it's more the emotional side, and I've got a young family.
"I came back to Guernsey to spend more time with them - but I still love my football, as well," he said.
"I spoke to [Guernsey FC manager] Tony Vance prior to the Muratti and I'm going to go away now, enjoy the success we've had this season and look back and think how well we've done as a squad, enjoy a holiday with the family and then sit down and really think about it.
"I've definitely got it in my legs, but it's whether I can mentally push myself again because I'd never want to drop off from the level that I've got to."