Lionel Messi urges Barcelona not to change their style of play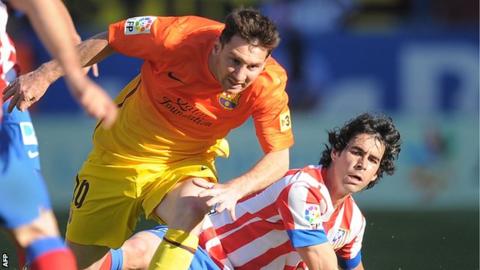 Lionel Messi has urged Barcelona to stick with their distinctive style of play, despite failing to win this season's Champions League.
Barcelona lost 7-0 on aggregate to German side Bayern Munich in the semi-finals of this year's competition.
That result led to suggestions that the Catalans' 'tiki-taka' passing game had been overtaken by the German power.
"We can't lose our heads. We can't change our style of play," the 25-year-old attacker told Television Azteca.
"You can't always win," added Argentina international Messi, the current World Player of the Year. "We've been playing our brand of football for years and managers and teams have studied it.
"We have to stay calm and focus on next year."
However, defender Gerard Pique thought the Spanish club would have to change and said: "We are not the best any more, other teams are."
Club vice-president Josep Bartomeu has also stated his belief that "four or five" new signings are required.
Despite their Champions League campaign ending in disappointment, Barca claimed the La Liga title back from Real Madrid with four games left to play.
This success came amid repeated health fears for head coach Tito Vilanova, who was sidelined for three months in December following an operation in New York to treat throat cancer.
Vilanova, 44, in his first season in sole charge of the club after moving up from assistant to replace former boss Pep Guardiola, has also travelled back to America this week for more "pioneering treatment".
Messi believed the coach's absence has had a destabilising effect on the team.
"Things went well with Tito, because he practically didn't change anything," said Messi.
"But we noticed a change when he left, not because Jordi Roura or the training staff who stayed on didn't do a good job but because we were missing our head manager.
"It wasn't the same. One year is a long time and it's great that we can finish it by celebrating."