Uganda appoint Milutin 'Micho' Sredojevic as new coach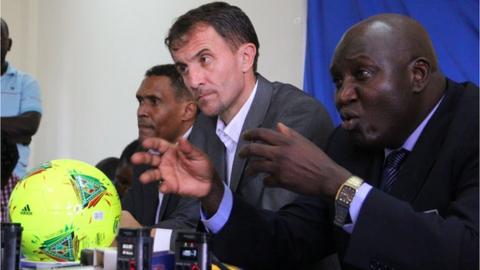 Uganda have appointed Milutin 'Micho' Sredojevic as their new coach.
The 43-year-old fills the post that has been vacant since Bobby Williamson's contract was terminated in April and he has signed a two-year deal with the Cranes.
Micho, who was sacked by Rwanda last month, said he was happy to be back in the country where he had his first coaching job in Africa.
He told BBC Sport: "My African dream started in 2001 in Uganda with SC Villa and I spent three years there. In the last nine years I have coached in Ethiopia, Sudan, South Africa, Tanzania and Rwanda. Now I have come back to my football home.
"I am very motivated to deliver and I will do my best to improve the team.
"I feel I am coming home to players who know me, and to a culture, structure and habits that are known to me. I don't think I will need to much time to acclimatise.
"Also, I know the players can play very good football, I only challenge them to improve their results. Uganda have not qualified for the Africa Cup of Nations since 1978 and I challenge them to end this jinx.
"I have not come here for a lucrative contract and big money, I have come here because I believe I bring many things to help the players and the team and I'm confident my contribution can help achieve success with the Cranes."
The president of the Ugandan FA, Lawrence Mulindwa, said 37 people had applied for the post and he gave assurances that Micho would be "given all the support that he needs".
Former Cranes assistants Sam Timbe and Kefa Kisala were also announced as Micho's assistant coaches, while Fred Kajoba retains his position as goalkeepers' coach.
"I fully appreciate all the good work that my predecessors have done. I believe that the support I will have will make us fly on," added Micho.
"One of my aims is to develop the youth systems and I want us to move from 97th in the rankings up to the top 70 and stay there to give our players a chance to play in top European leagues.
"When I came to Uganda, there was no youth structure in place. In my three-year spell with SC Villa we established a youth programme which helped us to nurture so many young players, who have since matured and now form the backbone of the national team.
"I have come here to utilise the talent and, with the support of Ugandan football, I want to continue improving the team and to make that step to qualify for the Nations Cup.
"I have a lot of motivation to prove that I am the right man for the job."
As well as three league titles with SC Villa, Sredojevic won a league title with Ethiopia's St George and guided South African giants Orlando Pirates to the semi finals of the African Champions League in 2006.
He also lead Sudan's Al Hilal to the last four of both the Confederation Cup and the African Champions League.
Sredojevic took over Rwanda in November 2011, replacing Ghanaian Sellas Tetteh.
His biggest achievement with Amavubi was a runners-up spot at the 2011 Cecafa Senior Challenge, the East and Central African regional championship.