Hamilton chairman Les Gray urges SFL clubs to accept change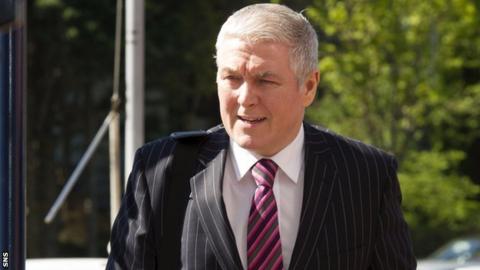 Hamilton chairman Les Gray has urged Scottish Football League clubs to accept Scottish Premier League reform plans.
SFL-proposed amendments were rejected by SPL clubs on Monday.
But Gray warned that if change was delayed, First Division clubs could take matters into their own hands.
He said: "If we're for it, fine. If there's 30 clubs not for it, that'll also be fine. But I don't think the First Division clubs will do nothing."
The SFL had proposed that a greater share of funding should filter down to Second and Third Division clubs.
Gray says that, if the proposals fail, responsibility would lie with SFL clubs.
"I think there is a danger of these proposals not going ahead if the SFL clubs don't get their act together and get the positive vote," he said.
"If they vote 'no' to these proposals then, as a group of First Division clubs, the aim is to find a 42-club solution - if that ain't possible then we'll find a 22-club solution.
"We can't prevent this from proceeding. If we do that, then the SFL clubs will be responsible for the lack of change."
The SPL are due to vote on their proposals within the next 10 days and Gray warned that the SFL need to address the issue urgently.
"We're in a difficult position now, because we have our AGM on Thursday," said the Hamilton chairman. "This isn't on the agenda, but we'll need to be discussing it.
"I'm hoping that this Thursday our clubs will have to give an indication of where they stand at this stage.
"We can't delay the process any longer, we have to stand up and be counted."