Motherwell's Michael Higdon assesses contract options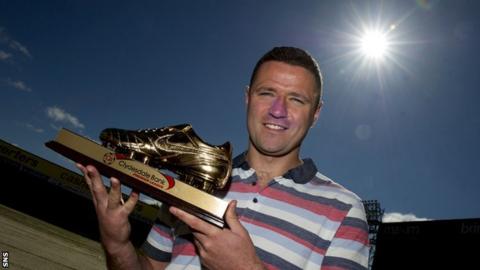 Motherwell forward Michael Higdon says his phone is "busy" as he assesses where he will play next season.
Higdon, out of contract this summer, was presented with the Scottish Premier League's top scorer award after netting 26 goals in the division this season.
And he is mulling over an offer to extend his two-year spell at Fir Park.
"I've got to weigh up every option," he said. "The age I'm at now, if I've got another move in me then, if it's a good one, I've got to look to take it."
As well as winning PFA Scotland's player of the year award, Higdon's performances helped the Steelmen finish second in the SPL and secure a place in next season's Europa League qualifiers.
"I don't think I'm going to have another good season like this," said the Englishman. "It'll be hard to top this season.
"In an ideal world, I'd stay at Motherwell for the rest of my career because it's a fantastic club and I enjoy playing here.
"I've got to look at every opportunity I've got. I've got a busy phone at the moment where it doesn't stop ringing.
"European football is a nice carrot to stay here for. I know there's a good contract here for me if I want it and European football will definitely play a part in that."
Manager Stuart McCall has also been linked with a move away from Fir Park, although
"He's done so well," said Higdon of McCall.
"If you work as hard as what we have to get where we are right now and then it's taken away, you start again from scratch. That's the difficult part but that's football and that's what happens when you bring success to a club.
"He's a good guy, great manager."