AFC Bournemouth report £3.4m loss for 2011/12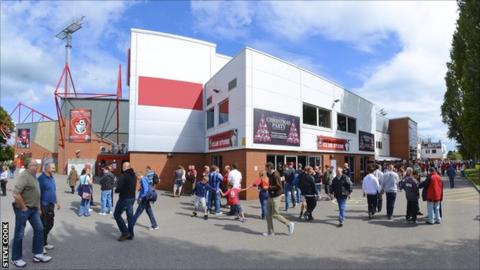 AFC Bournemouth lost £3.4m in the financial year ending July 2012 amid concerns from auditors over the company's ability to continue trading.
The figures highlight the importance of Russian co-owner Max Demin's involvement at the Goldsands Stadium.
Demin loaned £6m according to accounts filed at Companies House.
That investment came in a year where the club lost £3.4m, before the return of Eddie Howe and promotion to the Championship this season.
Demin's investment appears crucial to the financial stability of the club, who have invested heavily on and off the pitch over the past 18 months.
The accounts note uncertainty and significant doubt over the company's ability to continue as a going concern.
The report also notes that directors, including co-owner Eddie Mitchell, the other major shareholder, say Demin's investment has reduced that risk.
"As at 31 July 2012 there were doubts over the company's ability to pay some of its trade creditors and meet its other liabilities as they occurred," read the report.
"However, the directors consider that significant investment from a new shareholder has reduced the effect of this on the company's ability to continue as a going concern. As a result the directors have adopted the going concern basis of accounting."
Bournemouth do face a potential £500,000 bill if former manager Lee Bradbury wins an upcoming claim over his dismissal.
The accounts pre-date Howe's return and subsequent investment, but Bournemouth's promotion could be worth up to £5m in the second tier next season.