SPL's Neil Doncaster wants SFL to vote on latest plans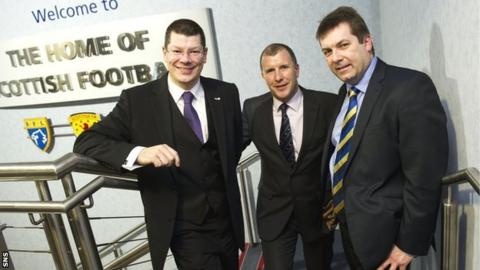 Scottish Premier League chief executive Neil Doncaster wants Scottish Football League clubs to vote on the top tier's plans to restructure the game.
Doncaster has written to his SFL counterpart, David Longmuir, asking that clubs vote at the AGM on Thursday to show commitment to the process.
but rejected some changes proposed by SFL clubs.
This would not have meant the SPL clubs supporting the SFL clubs to a greater extent.
Instead, the SFL clubs wanted the spread of money to their 30 clubs to be more generous to Second and Third Division clubs at the expense of those in the First Division.
This was one of three key points agreed by the SFL clubs when they met on 17 May.
The other areas of agreement were a plan to perform due diligence on the proposed merged league body, and the governance model, which would mean a board made up of three top league representatives and one from each of the other leagues.
Longmuir supplied this information to the SPL clubs ahead of their meeting on Monday, but the suggestions were rejected.
The SPL clubs are in favour of a merger of the SPL and SFL to form a new single league body, the Scottish Professional Football League, with a 12-10-10-10 format.
They have also approved play-offs involving the 11th-placed club in the top-flight and the teams finishing second, third and fourth in the second tier.
Currently, only one team can be relegated from the top league and one team can be promoted.
However, on Monday the SPL clubs voted against the SFL plans. They want the second-tier clubs to retain their bigger share of money so that relegation from the top tier, now an increased possibility with the introduction of play-offs, is not so financially damaging.
And the SPL clubs also rejected Longmuir's plans for the new SPFL board.
The SPL want a 3-2-1 set-up plus three independent board members, where the top tier provides three members, the second tier two and the third tier one member, whereas the SFL wanted a 3-1-1-1 membership.
The SPL clubs argue that the SFL's proposal on board membership reduces the say of the second-tier clubs.