Crusaders claim government cash for Windsor Park is unfair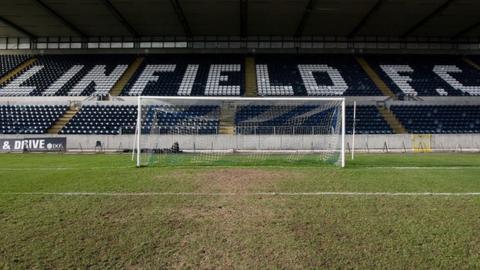 A government grant of £25m could unfairly extend the dominance of Linfield in local football, the High Court was told on Tuesday.
The money has been earmarked for the redevelopment of Linfield's Windsor Park which also serves as Northern Ireland's national stadium.
Irish League club Crusaders are seeking to block the proposed scheme, claiming it amounts to unlawful state aid.
Mr Justice Treacy rules on Wednesday on whether the case can proceed.
Crusaders claim Linfield's rivals would be disadvantaged by the redevelopment.
But lawyers for both the Department of Culture, Arts and Leisure and Irish Football Association argued the challenge was premature and should be thrown out.
The Windsor Park redevelopment is part of a plan that also includes the Ulster rugby ground at Ravenhill and the GAA's Casement Park.
A total of £110m has been set aside by the Department for the building projects at the three sports grounds in Belfast.
According to Crusaders, the envisaged Windsor upgrade breaches European Union competition laws.
The Seaview club claimed funding the Windsor Park project was a clear example of state aid for two private entities - the IFA and Linfield.
It argued the proposals would create unfair revenue streams, as well as superior facilities at the south Belfast ground.
Applying for leave to seek a judicial review, Crusaders barrister Peter Girvan told the court: "Linfield have significant market power already, if not a dominant position.
"Linfield are the most successful club in terms of cups and league championships.
"Is there an effect on the competition? We say yes, there's a competitive disadvantage to Linfield's direct competitors in Northern Ireland.
"It also places clubs Linfield compete against in the Republic of Ireland at a disadvantage."
The court heard how the IFA had negotiated a new deal to lease the stadium for international matches.
But Paul McLaughlin, for the Department, insisted no final commitment had been given to provide the £25m earmarked in the Stormont Executive's Programme for Government.
He acknowledged the process was at an advanced stage, but outlined how the stadium funding depended on agreement on a range of sporting and social integration projects.
"The exact scope of some of the programmes the IFA would have to deliver are not finalised. That's why we say the matter is premature," Mr McLaughlin said.
Although he rejected the state aid claims, the barrister also outlined an intention to seek the European Commission's view on the issue.
Counsel for the IFA, David Dunlop, backed his contention that there was no final decision to be challenged.
He further contended, that if the legal move was against an Executive policy first set out in 2011, it should be dismissed for being brought out of time.
Following submissions Mr Justice Treacy said he wanted to look at some documents before deciding whether to grant leave to seek a judicial review.