Forest Green: Reece Styche welcomes striker competition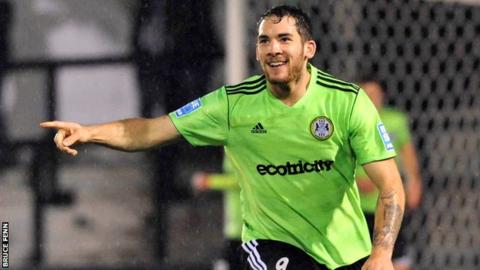 Forest Green forward Reece Styche says he is unfazed by the competition for places the club's new signings bring.
Boss Dave Hockaday has already bought in strikers Danny Wright and Andy Mangan to add to his attacking options.
"It's exciting knowing that others are coming to try and grab the shirt," Styche told BBC Radio Gloucestershire.
"Hopefully it brings out your best. You've got to prove to the gaffer you're better than what he's brought in."
These new signings will hope to take advantage of a serious knee injury to Styche, which could keep him out until December.
However the 24-year-old, who scored five times in 25 appearances last season, remains upbeat on his road to recovery.
"I'm genuinely in a good place at the minute," he said. "Some people may think that coming in over the summer when you usually have time off is going to be mentally draining.
"But we have a tight team, and it makes the days a lot easier. The knee is starting to feel stronger, it takes some getting used to on the machines because I haven't used my knee in a while, but it's a step-by-step process."