Pat Stanton - the Team Talk XI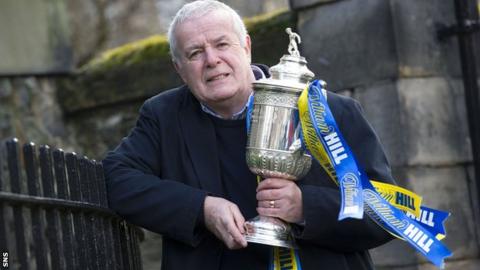 In Scottish Cup final week, Pat Stanton looks back over his career with Hibernian and Celtic to pick his BBC Radio Scotland Sportsound Team Talk XI.
Goalkeeper - Ronnie Simpson
When I started at Hibs, Ronnie was still there before his move to Celtic. He was a terrific goalkeeper and he was a great help to me as a young player, with wee bits of advice. He pointed things out that stayed with me throughout my career.
Right-back - John Brownlie
He was very unfortunate to break his leg at a vital part of his career. He had broken into the Scotland team as a teenager and he was tremendous going forward. He would get into goal-scoring positions and he could finish like a forward. He was an easy-going guy but he had a bit of steel about about him.
Central defence - John Blackley and John McNamee
Blackley was a terrific tackler and had a great attitude. He had a real sense of humour but worked very hard at his game. You could tell straight away he would make it when he was breaking into the first team.
McNamee was one of Jock Stein's first signings when he left Dunfermline to join Hibs. He was a big, commanding guy but a much better player than people gave him credit for. He could play some great passes from defence.
Left-back - Danny McGrain
This is so I could include John Brownlie but Danny did play at left-back during his career with Celtic and Scotland. A nicer man you couldn't meet but he'd kick you as quick as look at you. He was a great trainer and a great example to everyone he was involved with.
Right midfield - Jimmy Johnstone
Just a great, great player - and a terrific singer. He was probably giving all of those left-backs a song as he flew past them! He was full of life but a humble person. When opponents tried to intimidate him they were wasting their time, he would just pick himself up and go again. Sometimes you knew what he was going to do with the ball but he did it that quick there was nothing much you could do about it.
Central midfield - Willie Hamilton and Alex Cropley
A lot of people don't remember Willie but Jock Stein reckoned he was one of the best players he'd seen. He had tremendous skill. His best spell was probably at Easter Road because he wasn't too hot on discipline but he was scared of big Jock. His off the park lifestyle didn't allow him to play at the top for long. He'd run his race by 27 or 28.
Alex was slightly built but brave and a real nippy sweetie on the pitch, always moaning. But he had the talent to back it up and he would respond when things were going against you. He was quick and had a great left foot.
Left midfield - Bobby Lennox
Apart from being the cheeriest guy I've ever met on the park, you have to look at what he won. It's incredible! When I joined Celtic late in my career he was still there and a great presence in the dressing room. He was another guy you just couldn't knock down. He'd be back up and coming at you, always looking to start an attack.
Forwards - Kenny Dalglish and Joe Baker
There's not much I can add about Kenny. I was an experienced player when I joined Celtic but to be playing alongside him, Bobby and Danny, I had to pinch myself. Kenny was an outstanding talent. He would just take a touch and play it into the net. He made it look easy because he was so full of confidence. Players at that level see things before you do.
Joe was my boyhood hero. I used to stand on the terracing cheering him on. A guy from Wishaw playing for Hibs was the England centre forward? I know the times are different now but that is still some achievement. He had real presence on and off the park and his goal-scoring record was absolutely fantastic.
Manager - Jock Stein
He tried to sign me for Dunfermline when I was playing juvenile but my heart was set on Hibs. We met when he came to Easter Road and the transformation at the club during his short time was incredible. We were pushing for league when he left for Celtic.
He was a hard man but fair. If you were foolish enough to let him down you were making a mistake.