Dartford: Tony Burman ready to be patient in striker search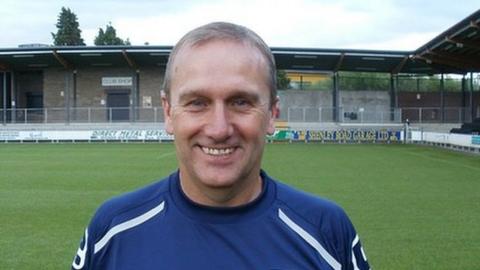 Dartford manager Tony Burman may wait until pre-season to sign a striker.
The Darts finished eighth in the Conference Premier despite failing to score in 15 of their 55 matches.
"I'm going to be patient as it's an area where we need that quality for sure," Burman told BBC Radio Kent.
"Players go back for pre-season and sometimes find they're not in the plans and then we're more of an option. We could look to the loan market then too as it worked well for us last year."
The Kent club signed goalkeeper Alan Julian from Newport County on Tuesday, having used Fulham loanees Marcus Bettinelli and Csaba Somogyi in all but two of their league matches this season.
Bournemouth striker Charlie Sheringham, who played for the Darts between August 2010 and October 2011, joined the club on loan for the final six weeks of the season and hit four goals in eight starts.
But it is not known whether Burman would like him to return for the start of next term.
"I'll still be trying to sign a striker before then," Burman continued.
"But what I'm saying is it might be the case that the best option is to realise we won't get one in straight away."
Meanwhile, having recently secured the future of several of his first-team squad, the Dartford manager is still waiting to hear from others, including 35-year-old centre-half Mark Arber, who has asked for time to consider his future after being offered a new deal.
"I can't wait around for too long, but Mark lives in Peterborough and it is a lot of travelling," he added.
"I want him to make sure he feels okay and that he's comfortable with everything so we'll see what happens."