Torquay boss Alan Knill hopeful that defenders will stay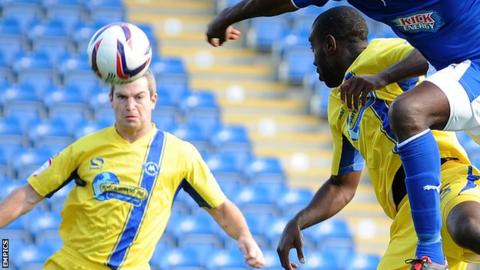 Torquay United boss Alan Knill says he is hopeful his three out-of-contract defenders will stay at the club.
Knill has offered deals to centre-backs Brian Saah and Aaron Downes and left-back Tom Cruise following his appointment as permanent Gulls boss.
"Tom Cruise has said he's going to sign his deal," Knill told BBC South West.
"I talked to Aaron Downes today and he's coming in to have a chat and I spoke to Brian Saah and we're hopeful on Brian," Knill added.
Downes while and
Cruise, made five of his seven Gulls starts under Knill.
"I'm hoping they're going to commit, nothing's certain at the moment, but they haven't said they're not going to, so we can only be hopeful as best we can.
"The talks we've had since the season's finished have been nothing but positive," Knill added.
Knill is also in the market for at least one right-back after but he says he will not rush to bring in fresh talent just yet.
"It's one of those times when you just have to be patient," he added.
"The players have the choice to see if there's anything else out there.
"But you can't be patient for too long. We've spoken to plenty of players and it's the same situation really, they're just weighing up their options."
Meanwhile Knill is also hopeful that he can bring in Chris Brass as his assistant.
Brass was at Knill's side during his time in interim charge of the Gulls last season and was alongside Knill when he was in charge at Bury and Scunthorpe.
"We're hopeful he's going to be permanent next week, there's just some loose ends to tie up." Knill said..
"He's a little bit different to me. He has a young family so it was a tougher decision for Chris than it was for me.
"But it think that there'll be a positive decision on Chris and he'll be a valuable member of what is already a very good staff here."