Dunfermline: Pars United launch buy-out bid
Last updated on .From the section Football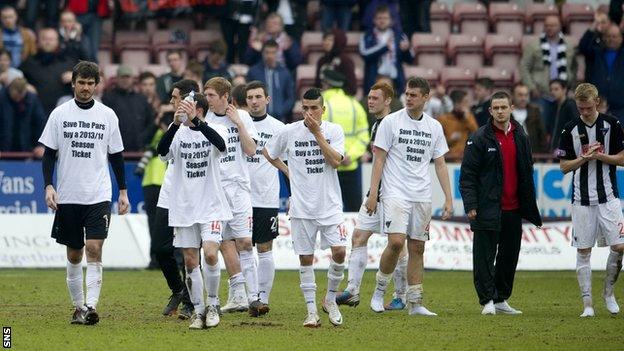 The Pars United community group has launched its bid to buy administration-hit Dunfermline Athletic.
The campaign hopes to raise "a minimum of £500,000" before the end of July and to establish fan ownership of the club.
The financially-troubled Fifers were docked 15 points for entering administration in April and forced to jettison several first-team players.
They were subsequently relegated to Division Two after a losing play-off final with Alloa.
Pars United brought together board members, players, staff, supporters, sponsors and debtors in an effort to stop the club going into liquidation after facing a winding-up order over a £132,000 tax bill.
The club is now being run by administrator Bryan Jackson, who hopes to establish a company voluntary arrangement with creditors before August to prevent the club incurring more football penalties for next season.
And Pars United say that "all capital raised will be held in secure trust accounts to allow the money to be repaid to those pledging support if a CVA is not successful".
Bob Garmory, who is leading the initiative, said: "Our club has been through a traumatic period in recent months and throughout that time many fans realised that there was a distinct possibility of there not being a Dunfermline Athletic as we know it.
"We now have a very real chance to take the club into community ownership.
"The club is of course still in a period of administration but we want to be ready and in pole position to buy the club from the club's administrators.
"We need to act now to be in a position to make an offer to buy the club as soon as the opportunity arises."
Manager Jim Jeffries added: "The fans' backing for the club and the team in recent months has been nothing short of outstanding.
"Without them the club would not have survived and that is why I'm right behind their efforts to raise the money needed to buy the club and place it in the hands of the fans themselves."
Anyone buying Dunfermline is likely to inherit some football debt to players and other clubs, while ownership of the East End Park stadium is held separately by a company of former Pars owner Gavin Masterton.