Roberto Martinez: Wigan boss delays decision on future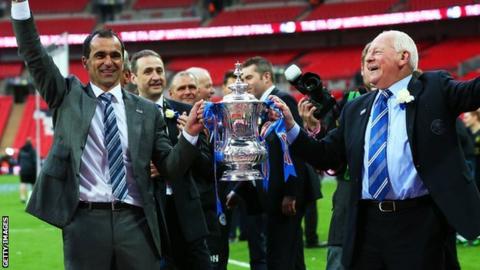 Roberto Martinez has delayed a decision on whether he will remain as Wigan manager after talks on Thursday.
The Spaniard, whose side won the FA Cup but were relegated from the Premier League, had been expected to inform chairman Dave Whelan of his wishes.
The pair will now meet again early next week with Martinez keen to establish Whelan's plans for the club's new training ground and academy.
Stoke City are interested in Martinez, while Everton are monitoring events.
On Wednesday, Whelan spoke of his relationship with Martinez. "We are very honest with each other," he told BBC Sport.
"Roberto has been dedicated to Wigan Athletic. He is so disappointed at getting relegated, as I am, that I don't think he has come round yet to the idea that we have just got to gear up, accept it - that's football - and get back as soon as possible, that's next season.
"It does take some swallowing when you get relegated, I fully understand that."
Martinez joined Wigan as a player in 1995 but left in 2001, before returning as the club's manager in June 2009 after more than two years in charge at Swansea City.
He managed to keep the club in the Premier League for three seasons and led the team to victory over Manchester City in this season's FA Cup final.
Whelan's close relationship with Martinez has been at the heart of Wigan's recent success and the 76-year-old hopes that loyalty may yet have a bearing on his manager's future.
"There is a massive, massive amount of loyalty between Roberto and myself," added Whelan. "If he wants to stay, that is fantastic and I will be over the moon.
"But if he decides he wants to move his career I will fully respect that and I will give him every bit of support I can."