Bundesliga warns of Qatar 2022 World Cup European league revolt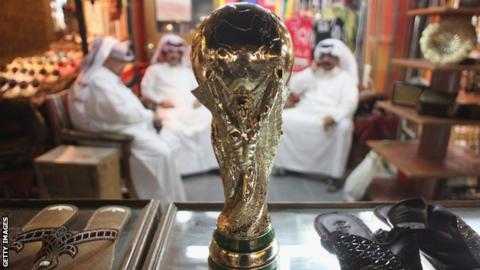 Germany's Bundesliga has warned that any attempt to move the 2022 World Cup in Qatar to the winter could lead to legal challenges by European leagues.
Temperatures reach 50C in Qatar during June, when World Cups normally start.
Uefa president Michel Platini but European leagues might be disrupted for up to three seasons if that happens.
Bundesliga chief executive Christian Seifert said: "I'm not sure legally you can say 'we'll just play in winter'."
Sepp Blatter, president of world governing body Fifa, said last week it is "not rational and reasonable'' to play in the summer heat in Qatar, but has stopped short of advocating a winter World Cup.
Seifert said it is "impossible" to play in Qatar in the heat of the summer, adding that the decision to hold the tournament in the Middle East country is "not for the good of the game".
Seifert, who was speaking ahead of Saturday's all-German Champions League final at Wembley between Bayern Munich and Borussia Dortmund, said: "I'm not sure of the credibility of Fifa.
"It shows me Fifa, as a body which says what's good for the game, ignores completely the day-by-day basis in those leagues who are effectively the core and the heart of football - not the tournament that comes up every four years."
Qatar beat the United States, Australia, Japan and South Korea to win the right to host the 2022 World Cup.
"As far as I understand, it was an invitation to tender and I'm very sure especially England is watching out for what happens there and I understand that," added Seifert.
"From other leagues I do have the feeling they are also very upset with the situation - that the decision was done and that a four-week tournament affects maybe three years of running of professional football leagues in Europe."
Qatar has unveiled plans that include air-conditioned stadiums and the possibility of artificial clouds which would cool the stadia in the country, which is ranked 101st in the current Fifa rankings.
Asked if the vote should be held again, Seifert added: "I cannot say because I did not know the tender. At the end of the day the lawyers decide if there is a re-vote.
"I am absolutely sure if countries like England see a chance of a re-vote they will force a re-vote."