Bristol Rovers: John Ward bides time over assistant approach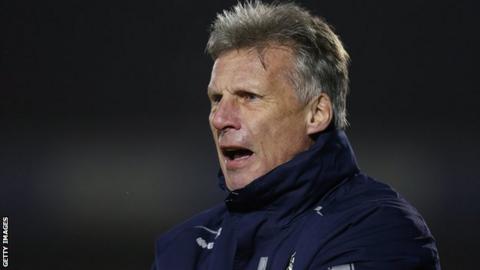 Bristol Rovers manager John Ward is ready to take his time to find the right number two for next season.
Ward, 62, has been without an assistant since Shaun North was told his contract would not be renewed.
"It would be wrong to get the wrong appointment, simply because we don't have the resources to do that.
"That's something I've got to pay a lot of attention to, and I hope people respect my patience trying to get it right," he told BBC Radio Bristol.
"I've discussed names and numbers with the chairman, but I haven't approached anybody.
"I've still got a couple of names that I'm not certain about at the moment, not because of their qualities, but which way I want to go about it."
Ward, who is in his second spell as Rovers boss, is reshaping his backroom team after agreeing a new 12-month rolling contract at the Memorial Stadium in April.
However, he insisted he would not be concerned if he does not have an assistant manager in place at the start of pre-season.
"I'd be fine," he said. "There's myself, Marcus Stewart, Mark Hammond, who takes some of the fitness stuff, and Phil Kite who will flit in and out with the injured players.
"I've got a decent group of people to work with, people who I know and have done an excellent job since we came together.
"It's not an absolute necessity. It would be nice if someone was in to get to know the players and club, but like with players, I won't lose sleep over it."