Hearts: Sergejus Fedotovas issues shares warning at AGM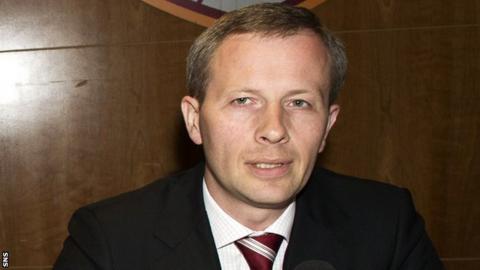 Director Sergejus Fedotovas has told Hearts' AGM that all shares in the club will be rendered worthless if the Tynecastle outfit enter administration.
The club's majority shareholder UBIG has requested to be declared insolvent.
Hearts issued shares to supporters before Christmas in an attempt to raise working capital.
Fedotovas insists the club is trading as normal but admitted developments in Lithuania could have serious implications for Hearts.
Later, Fedotovas told the Hearts website that the news about UBIG was "unexpected".
The investment group is included on a list of companies "unable to meet their obligations" which has been published on the Lithuanian government's Enterprise Bankruptcy Management Department website.
"To be frank we are still trying to find out what the reality is behind it and how this will impact on Hearts," said the director.
"Pretty much we know the company has declared it's in a position where it may not be able to meet its obligations and pay the bills. But as I understand from the Lithuanian legal background, it is something it has time to consider.
"The company has around 30 days to revoke that or take it further to the stage where it will be filing for bankruptcy or insolvency."
UBIG and sister company Ukio Bankas, which is challenging a bankruptcy order in Lithuania, own 79% of Hearts shares and are owed a total of £25m by the Scottish Premier League club.
Meanwhile, a group of Scandinavian businessmen are considering launching a bid to take over Hearts.
Consultancy firm Crest SportsGroup, who claim to be acting on the group's behalf, said: "We have made contact with the appropriate authorities in Lithuania and elsewhere to gain access to the necessary information, as well as make it known that this group of businessmen may be interested in fielding a bid for the club.
"We must stress though, that the final decision whether to field a bid has not been made, and will depend on the outcome of current processes surrounding Ukio Bankas and UBIG as well as other companies related to Vladimir Romanov and UBIG.
"A bid would be based on a single cash payment to take over the club without the debt owed to Ukio and UBIG and other companies owned and controlled by Vladimir Romanov and his family."
The SPL board met on Monday to discuss the situation but
The Tynecastle outfit thus avoided an 18-point penalty and relegation.