Dundee: Fans may buy Dens Park if takeover goes ahead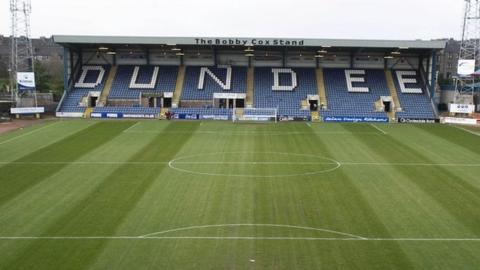 Dundee fans would get the opportunity to own Dens Park if proposed investment by Keyes Capital goes ahead.
A deal has already been agreed in principle by current club directors to buy the stadium back from former Dundee United director John Bennett.
Keyes Capital, from Texas, are offering to invest £1.6m, which includes the proposed purchase of the stadium.
And it has emerged they are prepared to do a share deal to allow supporters to own the ground outright.
Dens Park is owned by Bennett in the name of a company called Sandeman Holdings.
Should the American investment in Dundee go ahead, a new scheme would allow prominent fans from the business community and others to purchase unissued £5 shares in Sandeman Holdings.
Supporters would eventually own the stadium over a proposed period of between five and seven years.
Dundee director Steve Martin told BBC Scotland: "There is a clear and precise plan in place to buy the stadium and eventually return it to ownership of Dundee supporters.
"They would be getting the stadium back at the same price paid for it."
After finishing bottom of the Scottish Premier League this season, Dundee will start next term in the First Division.