Torquay United boss Alan Knill to hold talks with forward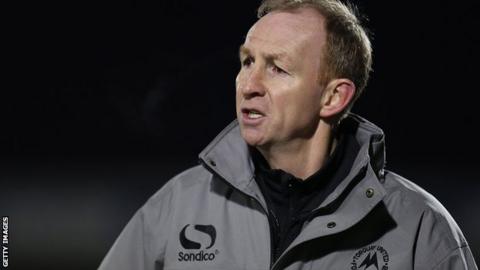 Torquay United boss Alan Knill is to hold talks with a prospective new striker as the club tries to replace Rene Howe and Ryan Jarvis.
while after his contract runs out.
The club after a
"We've spoken to quite a few forwards and I have a meeting with one. I'm hopeful we'll have more news next week," Knill told BBC South West Sport.
The former Scunthorpe boss has all but given up hope of Howe re-signing for the Gulls after a two-season spell in which the 26-year-old has scored 28 goals.
"I spoke to Rene last week and I spoke to his agent on Monday, and if I'm honest it doesn't look as though Rene is coming back," Knill admitted.
"We kind of knew at the end of the season that it'd be a position that we'd have to strengthen.
"I went to the League Manager's Association dinner on Monday and everybody is in the same boat, we're all looking for more or less the same players, we're all looking for strikers."
One former Torquay forward who
However, Knill said it was unlikely that he will make a bid for the powerfully-built striker, who scored 17 goals to help the Cobblers reach the League Two play-off final.
"Everybody would like to have him in their side," he continued.
"I know he's very well-paid, so that'd probably be a problem.
"He's someone that I know, he would be an asset, but I'm sure there's quite a few clubs looking at him. We haven't spoken to Ade and there are other players we're speaking to."