Neville Davidson named new Jersey FA chief executive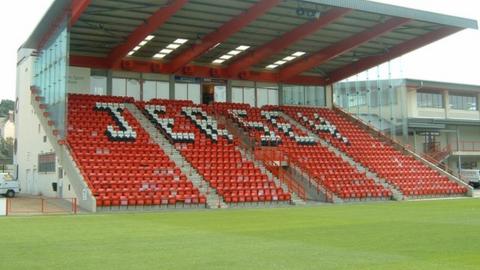 Former Jersey Footballer of the Year Neville Davidson is the new chief executive of the Jersey FA.
Davidson takes over from David Brookland, who
Brookland will continue as the Jersey FA's finance director.
"I am thrilled to be joining the Jersey FA and look forward to working with the current team to help develop the next stage of their strategic plans and initiatives," Davidson said.
The former semi-professional player moved to the island from County Durham in 1971 and helped St Paul's to victory in the Dorset Senior Cup, Jersey Football Combination and the Upton, as well as being named Footballer of the Year in 1982.
He is also a former manager of Jersey Wanderers and has worked in the island's finance industry, as well as having owned a marketing and advertising business.
"It was important that we found someone who could combine good business practices with an understanding of Jersey football," said Jersey FA chairman Phil Austin.
"Neville was impressive in the interview process and gave us the confidence that he could help to make strategic contributions and maintain the progress we have made in the last 12 months.
"The addition of Neville to our team will make us stronger and help to take us forward."