Togo coach Didier Six threatens to quit over expenses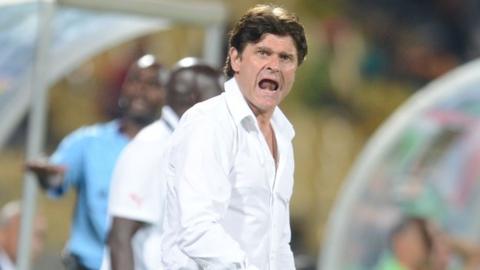 Togo coach Didier Six has threatened to resign unless the country's football federation pays him $128,000 he says he is owed in expenses.
Six insists he is seeking reimbursement for costs incurred from a scouting trip in Europe and has delivered an ultimatum to the Togo FA, which has questioned the Frenchman's claim.
While Six insists "everybody knew" about his trip and its purpose, Togo FA spokesman has asked for "a list of the new players detected during the tour".
"I do not really understand the behaviour of people who are managing the FA. I didn't go on the tour to please myself," said Six, who was appointed on a permanent basis last year but has clashed with his employers a number of times.
Patatou has questioned some of Six's spending on hotels and train tickets and he revealed the federation is not worried about Six's ultimatum, which he said it was "used to."
"Coach Didier is fond of claiming the payments of expenses he made during his holidays in his country. Officially he was on holiday and not on a scouting tour," Patatou added.
Last year, Six and the Togo FA were at loggerheads over the selection of striker Emmanuel Adebayor in the African Cup of Nations squad.
Adebayor then went public with stinging criticism of Six after Togo's quarter-final elimination at the tournament in South Africa, saying the coach didn't help the team at all and was "not an advantage''.
Six was expected to leave after the Nations Cup but clung on to his job.
However, with Adebayor once again appearing to boycott the national team, Togo are bottom of their World Cup qualifying group and without a win in three games.
Togo will host group leaders Cameroon in Lome on 9 June before meeting Libya two week later.