Aidy Boothroyd to use Northampton defeat as motivation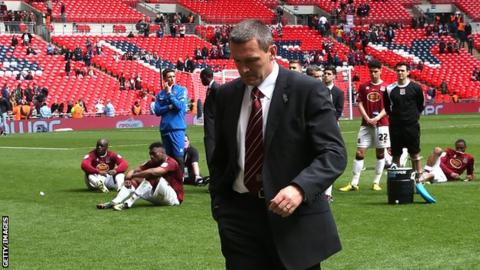 Northampton Town manager Aidy Boothroyd says losing the League Two play-off final to Bradford will inspire him and the team next season.
The Cobblers lost 3-0 at Wembley, a disappointing end to his first full season in charge of the club.
"I don't think I'll ever get over that. I'm not going to sulk about it but I'll be reminding the players how that felt.
"I don't want to be a nearly man again and I don't want the players to be that either," he told BBC Radio Northampton.
"We didn't lay a glove on them. Bradford had more experience of the big occasion than we did, but just getting somewhere is not enough - it's about winning it."
Defenders Kelvin Langmead and Lee Collins have signed new deals at Sixfields.
But Boothroyd has now begun the process of shaking up his squad for next season, with top scorer Adebayo Akinfenwa and defender John Johnson among the players released.
"I didn't want to sell Adebayo to one of our competitors [in January] and it was purely a football decision [to release him]. I didn't think he would be contributing as he has done in the past," he explained.
"You have to weigh up the money a player costs and what he gives you.
"Lee Collins has been excellent for us and is a player who I think can do what John has done but be an upgrade. I didn't find that easy [to release him] but I'm paid to make difficult decisions," he said.
Boothroyd is also hoping for better luck with injuries next term, having been denied the services of striker Alex Nicholls since October because of a double leg fracture and skipper Kelvin Langmead (knee injury) at the end of the season, when a run of five games without a win cost them the chance of automatic promotion.
"Alex Nicholls will be back, hopefully November time.
"I'm convinced had Kelvin Langmead been fit for full campaign, we'd probably still be driving around in an open top bus now," he said.
Northampton will need a new goalkeeper, with Wigan goalkeeper Lee Nicholls unlikely to return on loan, and Boothroyd wants more attacking options.
"The players will be fitter and wiser and we'll bring a few in who improve us. Like a Formula 1 car, you've got to keep adding to it, or the opposition catch you up.
"I think we need one or two wide players, another front player and a goalkeeper," he continued.
"We're going to find it easier attracting players than when we were bottom of the league and I had to practically kidnap people to get them in."
Meanwhile, Boothroyd insists he is not looking to leave the club having transformed them from relegation candidates to promotion chasers in 18 months.
"Everybody seems to be asking me if I'm staying, which is lovely for me," he added.
"It's brightening me up because I do feel pretty annoyed at the moment because I wanted to go up more than anything.
"I want to finish the job. That experience on Saturday has added to me as a manager. I don't want to be going through that again. I'm not going anywhere."