Carl Heggs resigns as Hinckley United manager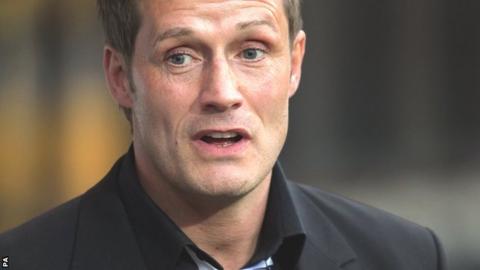 Carl Heggs says that he walked away as manager of Hinckley United because the club's ambitions do not match his own.
The 42-year-old resigned from the post after six months at the helm.
Heggs, who replaced Dean Thomas, only led the financially-troubled Knitters to two wins and four draws from 28 League games in permanent charge as they came bottom of Conference North.
"I feel that I've taken the club as far as I could possibly take them," Heggs told BBC Radio Leicester.
"I don't want to be part of something that doesn't match the ambition I've got.
"I said that I would fulfil the fixtures, and I stuck to my word when I should have walked out a long time ago. But I'm not someone who quits.
"I wanted to give everything I could to the football club during my time in charge. If it wasn't for me fulfilling the fixtures, which was really difficult at times as I had to play a few games myself, we would have been kicked out of the league and been in a right state."
The former West Bromwich Albion and Swansea City striker praised Knitters players and fans for their efforts in difficult times for the club.
"I thanked all players personally for playing six months for free, going all around country fulfilling fixtures," Heggs said.
"We went 32 games without a win and the fans always got behind the side and said encouraging things the whole time - that is the one thing I'll take away from the season."