Roberto Mancini: Manchester City fans to thank former boss in advert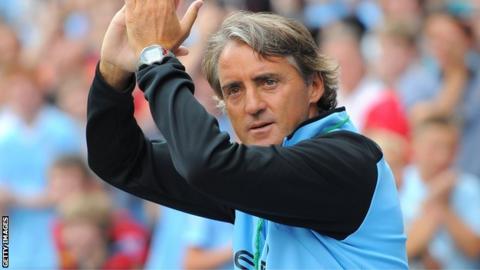 A group of Manchester City supporters plan to thank their former manager Roberto Mancini by placing an advert in an Italian newspaper on Saturday.
More than 700 fans have contributed to the "Grazie Mancini" fund, raising £7,000 in four days, with the piece to appear in Gazzetta dello Sport.
The Italian, 48, put an advert in the Manchester Evening News thanking City fans for "three unforgettable years".
Mancini was sacked earlier this month, a year after winning the title.
He also lifted the FA Cup in 2011, but was relieved of his duties after City failed to win a trophy this season and were knocked out in the group stage of the Champions League.
City fans, led by University of Nottingham student Adam Keyworth, plan to donate any money raised over the price of the advert to a local Manchester charity.
Keyworth, 21, started the online campaign and told BBC Sport: "We raised £5,000 in the first two days and the money has just continued to pour in.
"We didn't get a chance to say goodbye to Mancini as the sacking was quite messy so we're hoping, now we have the money, to put the ad in this weekend.
"I'm told Mancini is aware of the plan. After his advert last week we thought, what better way to say thank you to him?"
Keyworth also used Twitter to thank those who had given money, saying: "Thank you to everyone who has donated, supported or publicised this; it just shows what fans can do when they pull together. Very proud to be a blue at times like these.
"Every single donation has been from everyday City fans and not one from any of our celebrity support.
"Incredibly, as donations continue to pour in, I am in the position to give every penny over the advert fee to a local Manchester charity, so more people benefit from this idea."