Gareth Bale should leave Tottenham - Marcel Desailly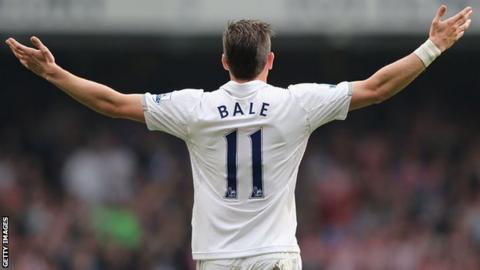 Marcel Desailly believes Gareth Bale should leave Tottenham to play for a club that "has a culture of victory".
Welshman Bale, 23, is touted as a summer transfer target for Real Madrid.
Spurs manager Andre Villas-Boas says it is vital for the club to keep the double Player of the Year.
But Desailly, the former France and AC Milan star, told BBC Sport Wales: "He should go, he should just go. Tottenham will not give him the opportunity to play at a very high level."
Tottenham's failure to secure a Champions League place is seen as opening the door for Europe's biggest clubs to make a bid for Bale.
The winger's 21 goals helped propel Tottenham to a club record total of 72 points in the Premier League.
But they were pipped to fourth place and Champions League qualification by arch-rivals Arsenal, who beat Newcastle 1-0 on the final day of the season.
Bale, who is under contract until 2016, scored 31 goals in all competitions during the 2012-13 season, including four in six World Cup qualifying matches for Wales.
His performances saw him voted Professional Footballers' Association Player of the Year and Young Player of the Year, only the third time both awards have gone to the same player. He also won the Football Writers' award.
And Desailly, who is taking part in a Football Association of Wales coaching school in Newport, believes the time is right for Bale to sample top-flight football on the continent.
"There's no price for experience. I think it's the time for him to go," said the 116-times capped France international.
"He needs to discover, as [David] Beckham has done, that an English guy or a Welsh guy has the capacity to export himself.
"It's not a matter of money because he has [money] where he is at Tottenham - it's just the experience.
"Experience to play at a very high level at a club that has the culture of victory, a club that has trophies in the cupboard - not one or two, but plenty.
"To experience playing with other big players, to be maybe a second choice.
"To face difficulty, a new language for his family.
"It's a real change of life and an approach to life as a human being and as a soccer player."
*Listen to the full interview with Marcel Desailly on BBC Radio Wales' The Back Page programme on Saturday, 25 May at 08:30 BST