Defender Johnny Black to leave Linfield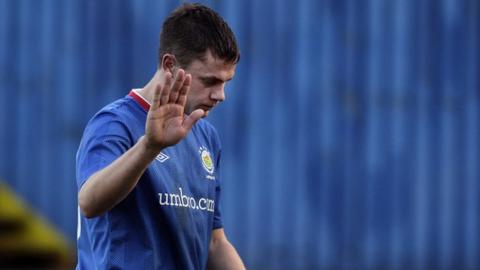 Defender Johnny Black has informed Linfield manager David Jeffrey that he is leaving the club to go to Australia.
The former Coleraine player signed for his boyhood heroes in August 2012 but his appearances were curtailed because of injury problems.
"In his situation and at his age, the move to Australia is an opportunity he wants to take and it's something he still wants to do," said Jeffrey.
"We fully appreciate and respect his decision," added the Blues' manager.
"While Johnny certainly would have been a continuing asset to the club, we appreciate that he has advised us of his intentions at this very early stage and before we had engaged in contract negotiations.
"Johnny's time with us may have been curtailed by injury but I fully appreciate the contribution he made during his year at the club.
"He's a Monkstown lad who grew up supporting the club and it meant a lot to him to play for us. In all his time with us, he always gave of his best and all we can do is wish him well.
"He has told me if there's anything he can do between now and September to help the club, he'll be only too happy to help and certainly, should he ever return to these shores after his time in Australia, I would certainly be recommending that we discuss re-engaging him."