Neville Davidson: FA backs Jersey side in English league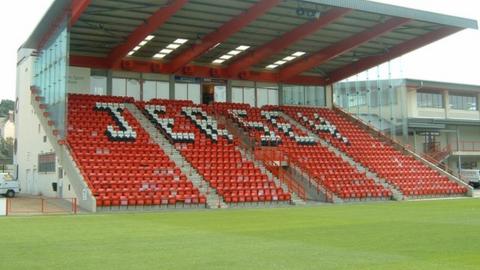 The new Jersey Football Association head, Neville Davidson, says an island side playing in an English league has his backing.
No Jersey side is currently in an English league, whereas Guernsey FC, which began in 2011, will play in the Isthmian League next season.
Jersey Rugby Club are already playing in the English Championship.
"The FA's going to support any team that wants to represent the island in comparison with Jersey rugby," he said.
"I think we'd like to try and move forward and see if we can do something of that nature," Davidson told BBC Radio Jersey.
Davidson as the chief executive of the Jersey FA and is a former Jersey Footballer of the Year.
Guernsey FC have won and made the this year.
Jersey's island team with every member of the winning team being a Guernsey FC player.
"Everybody's asking me already as we've got Guernsey FC and Jersey Rugby Club, are we going to see a Jersey FC?
"It may be the way forward but we've got to look at all sorts.
"It could dilute the local Combination League but, having said that, all the development that's in place now, they might want to aspire to represent Jersey.
"There's fors and againsts, and we have to do what's best for Jersey," he added.