Aston Villa upset at Christian Benteke transfer comments
Last updated on .From the section Football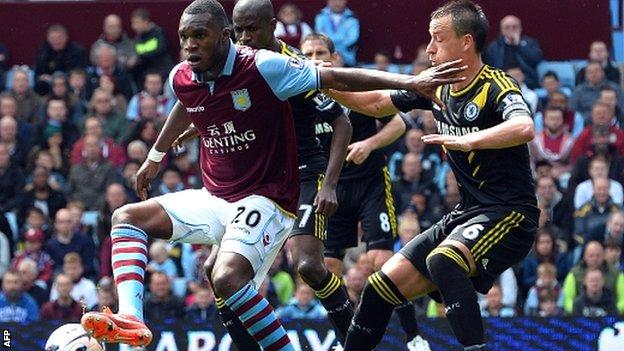 Aston Villa boss Paul Lambert has warned striker Christian Benteke after he was quoted in national newspapers suggesting he would seek a transfer.
He was quoted in Friday's newspapers as saying: "If Aston Villa say I must stay, I won't necessarily accept that."
Lambert said: "I don't 100% know what's happened but he's got three years here and the club have always come first."
The fourth highest Premier League scorer in 2012-13, Benteke scored on his Villa debut against Swansea, hit a brace in a 3-1 win at Liverpool in December and a second-half hat-trick in a 6-1 rout of Sunderland last month.
The 6ft 3in international, whose agent claims he has been misquoted, has attracted interest from several clubs and is keen to cement his place in the Belgium team for next year's World Cup in Brazil.
"I do not in any way want to feel I didn't get the most out of my career. I try to get everything," Benteke told The Sun.
"Of course playing in the World Cup in Rio is in my head. But there is no point in me getting into a tug-of-war with Villa.
"If the chance comes up for me to join a club like Arsenal, I'm convinced we can reach a compromise where everyone comes out a winner."
Lambert warned Benteke still had much to prove after learning of the striker's quotes, which were recorded while he was away on international duty.
"Sometimes we've got to have a reality check here," Lambert told TalkSport.
"He's had one of those seasons where he's never really been injured and he's never been suspended except the last day.
"He's only a kid starting out and he's going to have ups and downs like everybody else. Once he starts to play 400 or 500 games you might think, 'yeah, he's a good player'.
"It's a unique thing, and he's got to remember that he's only 22 years of age - he's got so much to learn.
"This lad's only been in Britain for 10 months. He's got the status at Aston Villa and everybody loves him."