Uefa president Michel Platini renews call for 'sport police'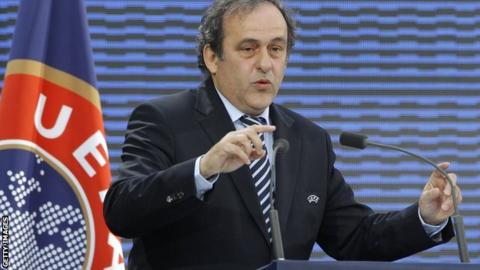 Uefa president Michel Platini has renewed his call for the establishment of a European sports police force to deal with match-fixing, hooliganism and doping.
The Frenchman first talked of cross-border football policing in 2007.
"There has been no response to those calls," Platini, speaking at the Uefa Congress in London, said on Friday.
"Given the absence of any reaction and the lack of awareness on the part of politicians, I renew that call today."
Platini was keen to highlight the threat of match-fixing, asking that if a continent-wide police force was not possible, individual countries could introduce legislation to punish those guilty of corruption.
"I ask that each country, at the very least, adopts specific provisions of national legislation addressing the issue of match-fixing, in order to finally have the legal tools necessary to rigorously punish these cheats," he said.
"Thus far, only around 10 of our 53 countries have provisions of this kind in their legislative arsenal. That's not many, and not enough."
Platini's comments come in the aftermath of a Europol investigation into 680 matches across Europe - including a Champions League tie in England - which were believed to have been fixed.
"We are not dealing with petty criminals who are looking to make ends meet," Platini continued.
"It would seem that we are, in some instances, dealing with mafia-type organisations that are using certain matches to launder money, tarnishing our sport in the process."
The former France international also highlighted the issue of discrimination in football, with the racist chants from Roma fans that halted the game against AC Milan one of a number of high-profile racial incidents across Europe.
"Unfortunately, football is all too often caught up by the ills of society," he said. "We must not bury our heads in the sand.
"Discrimination, be it racial or sexual, is still present in football today and we owe it to ourselves to act."
Platini also saw cause to discuss what he called the "worrying financial situation at certain clubs across Europe".
He praised the Premier League and Football League for grasping "the importance of the matter", while telling clubs across the continent to "not spend more money than you make".
Spanish club Malaga have been banned from European competition under Uefa's Financial Fair Play regulations over unpaid bills.
Platini added: "In order to prevent the current system from collapsing and stop the bubble from bursting, Uefa had a duty to step in, and it will be up to independent bodies to punish the few clubs that have not realised that football can no longer live above the rules."